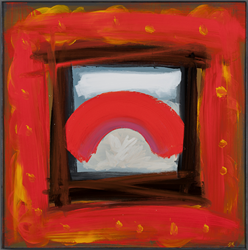 "Painting is an intimate process where I hook into that part of my brain that makes color and composition work on an emotional level."
Santa Fe, NM (PRWEB) August 27, 2014
Patina Gallery is delighted to present 'Measure of Days,' an exhibition of paintings from Santa Fe artist Daniel Kosharek. Each painting is a meditation on the day it was painted and is titled with that date. All are similarly composed and measure 18" square. His draped openings direct the beholders' attention deep into the distance, while loose brushwork and heavily textured surfaces express the fleeting nature of time.
Kosharek methodically lines up his brushes and works briskly, relying on intuition to depict "the exuberance of the moment." He prefers not to assign meanings, "when you have to put words to it, you're taken to a completely different place." He invites us to viscerally experience a moment in time so transient that words and cognition are left behind.
Raised in a small Wisconsin farming community, Kosharek has painted all his life. He served with the Marines in Vietnam before graduating from the University of Wisconsin with a degree in art. Since moving to Santa Fe in 1984, he has worked with numerous arts organizations including the Santa Fe Chamber Music Festival, the Santa Fe Symphony and the Museum of New Mexico Press. He currently works as a photo curator at Santa Fe's Palace of the Governors Photo Archives/New Mexico History Museum.
'Measure of Days' is the third and final exhibition of Patina's Drawn to the Wall series, part of the gallery's 15th anniversary celebration.
Although Patina is best known for world-renowned art jewelry, 'Drawn to the Wall' is a concentration on fine art created by Santa Fe artists Gail Rieke, David Solomon, and Daniel Kosharek.
Who: Daniel Kosharek
What: Measure of Days, an exhibition of paintings
Where: Patina Gallery, 131 W. Palace Ave, Santa Fe, NM
When: October 3 – 26, 2014, Artist Reception: Friday, Oct. 3, 5:00-7:30 pm
Contact: Ivan Barnett, ivan(at)patina-gallery(dot)com, 505.986.3432