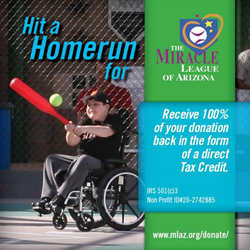 Scottsdale, AZ (PRWEB) August 21, 2014
The Miracle League of Arizona is a charitable organization that grants over 200 children and young adults with special needs the opportunity to play a game of baseball, as a team member in an organized league. Free to participate and sign up, two days a week for one hour the Miracle League offers parents with special needs children the opportunity to get out in the sunshine, and enjoy playing the game of baseball.
Each athlete gets a team jersey, is placed in a league based upon his or her age and skill level, and matched with a 'Buddy'—a one-on-one friends and helper. All athletes are encouraged to do as much as they can on their own, and the buddies are there to assist with the rest. Sometimes an athlete may require hand over hand aid, where in other cases words of encouragement, high fives, or prompts on what to do next maybe all that is needed.
"Every child deserves the chance to play baseball," said Dan Haren Sr., executive director, MLAZ. "We invite the community to come on out and have some fun with us and support our mission of providing the baseball experience to kids and adults with disabilities."
Fall season starts September 20th, 2014. Volunteers are welcome ages 10 and up, training and orientation for all new volunteers starts September 18th, at 6 p.m. at 11130 E Cholla Campus.
For more information, please contact Casie Switalski director of operations at 480-686-8137 or visit http://www.mlaz.org.
About The Miracle League of Arizona:
The Miracle League of Arizona is a nonprofit organization in North Scottsdale dedicated to providing a safe successful and enjoyable baseball experience for children, teens, and adults with disabilities or special health care needs. The facility is the only full service stadium with a custom design rubberized turf, to allow easy maneuverability for wheelchairs and other devices; it has a long list of other additions to fully accommodate all the needs of every player and family for a full day of fun at the ballpark. Follow us on Twitter and Facebook.
If you would like to donate to the Miracle League, sponsor a child, or volunteer, please contact Casie Switalski at 480-686-8137 or email Cswitalski(at)mlaz(dot)org.