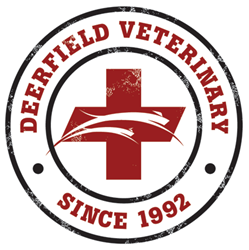 Attending CVC Kansas City helps Deerfield Veterinary Hospital continue practicing the latest veterinary techniques.
Springfield, MO (PRWEB) August 21, 2014
Deerfield Veterinary Hospital, located in Springfield, Mo., today announced it will send members of its veterinary staff to CVC (Central Veterinary Conference) Kansas City 2014 this weekend. Dr. Denise Roche and Dr. Ned Caldwell, Deerfield Veterinary Hospital's founding partners, and Veterinary Technician Joshua Doss will attend the three-day conference, which offers more than 700 hours of clinical education. Dr. Caldwell and his colleagues look forward to the attending the annual event again this year: "Deerfield is entirely committed to providing our clients' pets the best possible care. That requires ongoing education on the latest veterinary techniques and technology, and CVC Kansas City offers both," said Caldwell.
Dr. Roche agrees that investing time in continuing education is crucial to remaining a leading Springfield veterinary hospital, and "going to CVC Kansas City and similar seminars helps us ensure Deerfield remains on the cusp of veterinary innovations." She added that CVC Kansas City is especially educational as well as fun for a number of reasons: "It offers the chance to visit with other veterinarians from all over the Midwest, including our fellow University of Missouri College of Veterinary Medicine Alumni. As well as swapping heart-warming success stories with our peers, we can test out the breakthrough techniques and devices that might just help us save the life of someone's beloved pet this year."
CVC Kansas City 2014 Details
The conference will be held Aug. 22 - 25 in Lobby 2300 of the Kansas City Convention Center, located at 301 West 13th Street in Kansas City, Mo. The event schedule includes 15 clinical techniques courses, ranging in focus from fine-tuning basic techniques, like cat and dog dental cleaning or periodontal therapy, to practicing the soft tissue surgeries cats require most often. Organizers anticipate more than 2,700 attendees and over 250 exhibitors at CVC Kansas City, which will also feature 88 different speakers.
The majority of clinicians presenting at CVC Kansas City also teach classes at respected veterinary schools across the United States. Deerfield Veterinary Hospital staff members are particularly interested in presentations on critical care, veterinary dentistry, dermatology, gastrointestinal disease, internal medicine, orthopedics, oncology and x-ray and ultrasound techniques.
About Deerfield Veterinary Hospital
Home to dedicated vets in Springfield, Mo., Deerfield Veterinary Hospital has offered knowledgable, compassionate pet care to the Springfield community since 1992. Dr. Edward (Ned) Caldwell, Dr. Denise Roche, Dr. Laura Hilton and Dr. Craig Bendickson provide medical and surgical care for pets, and the Deerfield Veterinary staff offers boarding and bathing services with a loving touch. As a full-service pet hospital, Deerfield is equipped to run on-site lab diagnostics and blood testing as well as perform both pre-surgical and senior pet screenings. The hospital frequently invests in the newest equipment—from ultrasound and X-Ray equipment to lab kits—and stocks the safest anesthetics for pet surgeries.
For additional details about CVC Kansas City 2014, visit thecvc.com. For more information on Deerfield Veterinary Hospital, follow them on Facebook, Google+, LinkedIn, YouTube and the Deerfield blog, or visit deerfieldvet.com.