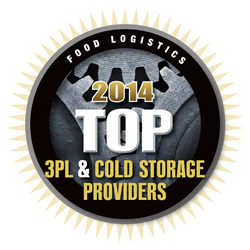 Chicago, IL (PRWEB) August 27, 2014
AFN®, an award-winning logistics and supply chain company, has been named as a Top 3PL & Cold Storage Provider for 2014 by Food Logistics, a respected industry trade publication.
The Top 3PL & Cold Storage Providers publication serves as a resource directory of third-party logistics and cold storage providers whose products and services are critical for companies in the global food and beverage supply chain. Inclusion on the list recognizes AFN's leadership in providing solutions in the food and beverage vertical.
"We're honored to be included on the list," said Ryan Daube, CEO and Founder of AFN. "We pride ourselves on continuously finding new ways to better service our customers in the food and beverage industry, and this award validates those efforts."
"Our growing list of 3PLs and cold storage providers indicates how important these two segments are to the food industry and the level of expertise and services required to support today's growers and processors, shippers, and grocery retailers," noted Lara L. Sowinski, editor-in-chief for Food Logistics. "Assuring a safe and secure global food supply chain is paramount. In addition, reducing food waste, managing fuel and energy costs, and responding to new demands related to omnichannel retailing are just some of the expectations the food industry has of their 3PL and cold storage providers."
About Food Logistics
Food Logistics is published by Cygnus Business Media, a leading diversified business-to-business media company. The publication serves the information needs of executives involved in various aspects of the food and beverage supply chain. Through our print and online products, we provide news, trends, and best practices that help more than 24,000+ grocery and foodservice suppliers, distributors, and retailers make better business decisions. Visit us online at http://www.foodlogistics.com.
About AFN
Serving motor carriers, manufacturers and retailers since 2003, AFN (formerly known as Advantage Freight Network) is an award-winning leader in freight brokerage, third party logistics and transportation management services. We are known for our commitment to client service, our proactive approach to fighting cargo theft and our expertise in retail compliance. To learn more about AFN, visit http://www.loadafn.com or call 877-LOAD-AFN.