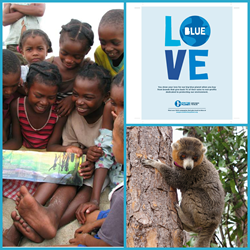 "The intent of 1% for the Planet is to help fund these diverse environmental organizations so that collectively they can be a more powerful force in solving the world's problems," says John Tashiro, Interim CEO of 1% for the Planet.Add a quotable
Myakka City, FL (PRWEB) August 26, 2014
Partnership with 1% greatly expands the potential pool of funding to which Lemur Conservation Foundation can look to for support.
Newly approved, Lemur Conservation Foundation contributes to a healthier planet through our mission to the preservation of lemurs, the primates of Madagascar, through efforts in conservation, education, research, and our commitment to infuse art into all aspects of our mission. The International Union for the Conservation of Nature lists lemurs as the most endangered primates in the world.
1% for the Planet corporate participant, Nature's Path Foods, has supported Lemur Conservation Foundation's Ako Series, a conservation education effort for K-4 children in the United States and Madagascar. Thanks to support from this 1% for the Planet partner, teachers and students living near critical lemur habitats receive information about lemurs and forest conservation. Our goal is inspiring the next generation of conservationists, humanitarians, and environmental stewards.
Over 3,600 nonprofits worldwide are included in the 1% for the Planet network, and over $100 million has been funneled to its nonprofit partners to date.
About 1% for the Planet
1% for the Planet is a global network of businesses that donate one percent of annual sales directly to approved environmental and sustainability nonprofit organizations. More than 1200 member companies in 48 countries give back to this big blue planet through over 3600 nonprofit partners. Started in 2002 by Yvon Chouinard, founder of Patagonia, and Craig Mathews, owner of Blue Ribbon Flies, 1% for the Planet helps people buy better products and protect the planet we play on. To date, our network has given over $100 million back to blue. To learn more go to: http://www.onepercentfortheplanet.org.
About Lemur Conservation Foundation:
Lemur Conservation Foundation (LCF) was established in 1996 by Penelope Bodry-Sanders. LCF is a leader in the conservation and preservation of the primates of Madagascar through programs dedicated to observation oriented research, education, and lemur propagation, with a commitment to infuse art into all of our mission programs. LCF is an American Association of Zoological Parks and Aquariums accredited private, 100-acre facility based in Myakka City, Florida. Our current lemur population of 47 animals thrives in naturalistic free ranging habitats ranging in size from 9 to 13 acres, and smaller enclosures for animals in need of a more specialized environment. LCF is a respected voice for science, conservation, education, art, and lemurs, the iconic image of the conservation challenges and environmental stewardship facing Madagascar and the world.