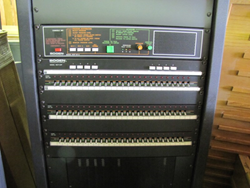 Chicago, IL (PRWEB) August 28, 2014
Even after 17 years of school communications sales and service, I am still amazed at how many last minute calls we receive for replacing and repairing school intercom, paging and phone systems. This year,Telcom & Data has decided to put together a check list to help make sure your school is ready.
Check each class room for functioning two way communications. Announcements to and from the administration's office to each class room should be clear and loud enough to hear even over the roar of an inspired class room. Reliable communications to the class room is very important for school safety. Clear announcements for intruder, weather and fire evacuations are required for every class room including gym, cafeteria, and common areas. If there are outdoor speakers or horns, make sure they are loud and clear and in good working order.
Telephone system communications should be checked to make sure all telephones are in working order and also all phone lines are in operation. A 911 test call should be made to make certain. Check the address the 911 operator has on file to make certain it matches the schools address and phone location. With new IP technology it is possible to have incorrect information in the 911 data base.
Check to make sure that all fire alarms, horn strobes and speakers are working. During the summer it's easy for a fire alarm device to get knocked around and damaged. Make sure to talk with your alarm provider to avoid the fire department showing up with a false alarm.
Check all school clocks to make certain they are synchronized and working. If your school clocks are wireless, it may be a good time to change out batteries.
A school communications system is more important than ever. If your school does not have a school intercom system, Telcom & Data provides affordable systems designed to deliver years of reliable communications. For more information, please check out School Intercoms here or call 800-335-0229.
From the desk of Ricardo Trinidad
Since 1996 Telcom & Data has been providing thousands of telecommunications solutions to organizations around the world to measurably improve communications. Telcom & Data maintains a network of more than 1600 technicians The company is a leader in business phone systems, intercom systems, and mass notification products.