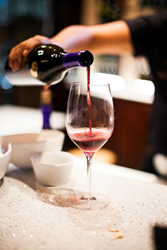 The family winemakers of Madera County are proud to be a part of the California wine industry
Madera, California (PRWEB) August 25, 2014
Local Wineries and Restaurants will host Wine and Food Tasting Reception, Celebrating California Wine Month
"California Wine Month Reception & Wine Tasting"
September 12, 2014 – 6 p.m. to 9 p.m.
San Joaquin Wine Company
The Madera Vintners Association will host "California Wine Month Reception & Wine Tasting," celebrating California Wine Month in September on its 10th anniversary. California Wine Month was proclaimed by Governor Jerry Brown to acknowledge the state's rich wine history and the contributions of its vintners and growers to the lifestyle and economy of the Golden State. Local wineries, restaurants and food exhibitors will join together on September 12th to pour wines complemented by delicious and culturally diverse food. Wineries and vintners will be available to discuss the wines and techniques used in local winegrowing and winemaking. The event proceeds benefit the Madera Vintners Association's Scholarship Program, which awards students every year in Viticulture and Enology programs at California State University, Fresno.
Guests will enjoy the wine and food exhibitors at San Joaquin Wine Company's new tasting room and outdoor park in Madera, while listening to live music by "Encanto", a Latin jazz band. Guests will also have the opportunity to participate in the People's Choice Award by voting for their favorite wine as they taste each on this special evening.
Did you know?

California's wine industry produces 90 percent of U.S. wine
California's wine industry attracts 21 million visitors annually to its wine regions
California's wine industry generates 820,000 jobs nationwide, and 330,000 of those are in
California

Madera has been growing grapes since the late 1800s and is home to 7 percent of California vines
The family winemakers of Madera County are proud to be a part of the California wine industry. Come join us and be part of the celebration!
Ticket Information
Tickets are limited and available only in advance for $35 online at http://www.MaderaWineTrail.com through September 12, 2014. For more information about this event, visit http://www.MaderaWineTrail.com or contact info@maderavintners.com. For more information about California Wine Month, visit http://www.DiscoverCaliforniaWines.com/californiawinemonth
###