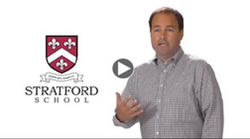 A shift in focus within our schools is critical to prepare our children for jobs of the future.
Saratoga, California (PRWEB) August 21, 2014
Stratford School today announced that they are strengthening the American economy by offering Engineering - since the strength of the American economy is inextricably linked to America's education system. A shift in focus within our schools is critical to prepare our children for jobs of the future.
Job creation in the areas of science, engineering, technology, and math will outpace jobs in unrelated fields over the next 10 years (U.S. Department of Commerce, 2011), and 60 percent of these new jobs will require 21st century skills that most graduates do not possess (National Commission on Mathematics and Science for the twenty-first Century, 2000).
Leaders, educators, and students from Stratford School describe their new Engineering course, and demonstrate 21st century skills and learning in a short video that was released at the start of the 2014-15 school year. See the video here: Technology & Engineering at Stratford School.
Stratford now offers advanced Computer Science and Engineering courses to middle school students. Computer Science covers multi media, web design, animation, and programming. Engineering covers technical challenges, aerospace engineering, bioengineering, civil engineering, and electrical engineering.
Engineering consultants, along with Stratford graduates who continue to build their extensive knowledge in technology and engineering, were invited to help bridge the gap between engineering applications in the real world and the theoretical principles students learn in the classroom. Proud Stratford graduates have contributed to lesson designs and are now acting as student mentors.
Aspects of technology and engineering are taught at Stratford beginning in first grade preparing students for the deeper integration they will see as they graduate into the next school year. For 2014-15, upgraded elementary science textbooks, replete with STEM related activities, are featured at every campus, and elementary science labs are upgraded to include advanced microscopes and STEM infused lab kits.
At Stratford, the best preparation for a lifetime of learning begins in preschool. Preschool and pre-kindergarten educators encourage students to think critically, problem solve, answer open ended questions, and use hands-on exploration and creation. A sample preschool program includes math and engineering daily, and science and art 2-3 times per week. The goal of every lesson is to invite, excite, and engage each student and their spirit of creating, designing, achieving, and learning.
Note to editors:
Stratford School is an independent private school founded on the belief that education is a significant influence in the life of a child. Stratford offers preschool through eighth grade, with an accelerated curriculum – particularly in the areas of mathematics and language arts – that incorporates music, art, science, technology, engineering, and physical education. Academically, Stratford School students score around the 90th percentile on the Stanford Achievement Test, Tenth Edition (SAT 10).