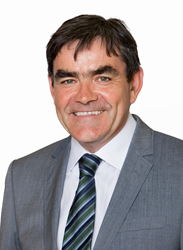 We welcome Professor Begg and recognize that with his appointment we gain access to the knowledge and experience of a key opinion former in the travel and transportation fields.
SAN DIEGO, Calif. (PRWEB) August 21, 2014
Cubic Transportation Systems has announced the appointment of Professor David Begg, DSc., BA, to its advisory board.
Professor Begg is a leading authority on transportation, regularly advising the UK government on strategic road, rail and airport infrastructure projects. He also serves as a non-executive director of Heathrow Airport Holdings Limited (formerly BAA), is visiting Professor in Sustainable Transport at Plymouth University and a sought-after media commentator on transportation-related matters.
Cubic established its advisory board two years ago as a key measure in the mission to transform its business. The company's customers face rapidly changing dynamics and unprecedented challenges as the growth of urban populations continues. Cubic's aim is to become an ever more agile partner for its customers as they seek to develop more effective services and infrastructure capabilities.
Professor Begg joins a panel of luminaries that includes Bruce Baird, respected former Transport Minister and industry leader in Australia; previously holder of several Australian government ministerial posts; Willie Brown, former Mayor of San Francisco and Speaker of the California State Assembly; Robert D. Jamison, one-time Deputy Administrator of the US Federal Transit Administration, Acting Administrator of the Federal Railroad Administration, and Under Secretary for the Department of Homeland Security, and Norman Mineta, who served in both the Clinton and George W. Bush administrations, lastly as Secretary of Transportation.
Commenting on his appointment, Professor Begg said, "Intelligent transport systems have the potential to transform travel behavior in the way the railway did in the 19th century and the internal combustion engine did in the 20th. Cubic is at the forefront of making that revolution a reality and I am delighted to have the opportunity to contribute to that progress."
Steve Shewmaker, president of Cubic Transportation Systems and executive vice president of Cubic Corporation, said, "The value of the advisory board is evident in the progress we have made in the two years since its formation. We welcome Professor Begg and recognize that with his appointment we gain access to the knowledge and experience of a key opinion former in the travel and transportation fields."
About Cubic Transportation Systems
Cubic® Transportation Systems, Inc., is part of Cubic Corporation. Cubic Corporation is the parent company of three major business segments. Cubic Defense Systems is a leading provider of realistic combat training systems and secure communications systems. Mission Support Services is a leading provider of training, operations, maintenance, technical and other support services for U.S. and allied nations.
Cubic® Transportation Systems, Inc., is a leading integrator of payment and information technology and services for intelligent travel solutions. Cubic delivers integrated systems for transportation and traffic management, delivering tools for travellers to choose the smartest and easiest way to travel and pay for their journeys, and enabling transportation authorities and agencies to manage demand across the entire transportation network – all in real-time. Cubic specializes in design, development, manufacture, supply, installation, integration, services and information. Services provided by Cubic include on-site management, central systems, operations support, patron support, business support and field services.
Every year, more than 24 billion transportation payment transactions are processed using Cubic payment and information systems worldwide. Cubic has delivered over 20 regional back office operations which together integrate over 130 transport operators and serve over 38 million people every day in major markets around the world. Active projects include London; Brisbane (Southeast Queensland) region, Australia; New York/New Jersey region; Washington, D.C. /Baltimore/Virginia region; Los Angeles region; San Diego region; San Francisco region; Minneapolis/St. Paul; Chicago; Atlanta region; Miami (South Florida) region; Vancouver and Edmonton, Canada; Sydney (New South Wales), Australia; Germany; and Scandinavia.
For more information about Cubic, see the company's website at http://www.cubic.com/.
Contacts:
Tony Brown
HAMG360
PH: +44 (0) 20 315 7945
Tony.Brown(at)HAMG360(dot)com
Suzanne Hatcher
Corporate Communications
Cubic Corporation
PH: 858-505-2430
Cell: 858-774-4736
suzanne.hatcher(at)cubic(dot)com