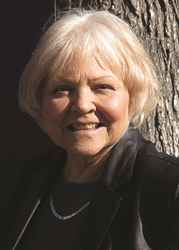 Napa, California (PRWEB) August 22, 2014
Teri Buchanan, Realtor at Heritage Sotheby's International Realty has successfully completed extensive coursework through the National Association of Realtors to achieve certification as a Seniors Real Estate Specialist (SRES).
With extensive experience in representing buyers and sellers of all ages, Buchanan and her real estate partner, Jim Estep, noticed their clients were increasingly planning for retirement, downsizing at/or immediately after retirement, or considering post-retirement moves to create an easier and more enjoyable lifestyle.
"We have clients who are simply tired of managing a large household," Buchanan says, noting that it was her clients who motivated her to seek the SRES certification and to undertake added local research afterward.
"This designation really inspired us to broaden our resources so that we're better able to help our clients overcome common obstacles to achieving the life they want," she explained. The partners have long kept a resource file of professionals they've worked with and can recommend to address common issues faced by all home sellers or buyers – such as craftspeople and vendors to get a home move-in ready. Now they've added professionals particularly suited to the 50+ buyer or seller, including:

Organizers to help clients sort through the accumulation of decades – often the first hurdle before a move can even be contemplated.
Estate sale experts to organize and sell excess belongings and furnishings.
Lenders versed in Reverse Mortgages as well as Home Equity Lines of Credit, either of which can provide cash to facilitate a move.
Local movers adept at working with the 50+ client.
Information on local 50+ housing options – whether for sale or for rent and at a variety of price points.
Buchanan invites people who are considering a move to call for a complimentary consultation including an assessment of the current value of any property they own locally. In addition to helping out of town buyers find suitable homes to purchase in the Wine Country, she can also recommend agents in San Francisco or Marin if buyers have property to sell in those places. You can reach Teri Buchanan at 707-256-2148 for more information.
About Heritage Sotheby's International Realty:
Heritage Sotheby's International Realty specializes in listing and selling Napa Valley real estate. From high-end luxury homes, vineyards and investment properties to starter homes and vacation cottages, Heritage Sotheby's International Realty's highly experienced and knowledgeable Realtors in Northern California.