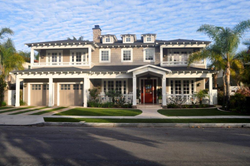 Coronado, California (PRWEB) August 26, 2014
Dustin Cumming and his partners Monty Beisel and Camille Anderson of Cumming, Beisel and Partners of Hilton & Hyland Real Estate bring to market the exclusive offering of 611 Coronado Avenue, Coronado for $3,600,000.
Rarely does one get the opportunity to live in such a unique place as Coronado Island, a quaint little beach town off the cost of beautiful Southern California. Coronado, as it is known, is an affluent resort city located in San Diego County, California, across San Diego Bay from downtown San Diego. Coronado is home to a thriving community, world class schools, great restaurants and a vibrant night life. Home to the the world renowned Hotel Del Coronado, tourism is a major part of life on the island.
Given the exclusive nature of real estate on Coronado Island, it is with great pride that Dustin Cumming, Monty Beisel and Camille Anderson of Cumming, Beisel & Partners at Hilton & Hyland Real Estate are proud to bring to market the sprawling estate at 611 Coronado Avenue, Coronado.
Best described as a beautiful beach inspired Craftsman style home, 611 Coronado is centrally located in the quiet Country Club neighborhood of Coronado Island. Built in 2008, this $3,600,000 home features 5 bedrooms and 5 bathrooms, with three ensuites and two Jack and Jill bedrooms. Boasting approximately 4300 sq. ft. of living space this home features a gourmet chef's kitchen with marble countertops and top of the line appliances. Entering the first floor living area gives way to a sliding wall of glass doors that create a seamless indoor/outdoor living environment complete with an outdoor kitchen, pool/spa and outdoor fireplace. Numerous balconies bring Coronado's beautiful weather into every room. This newer built home is truly an entertainer's paradise.
Founded by Dustin Cumming & Monty Beisel; Cumming, Beisel and Partners are a renowned luxury real estate team who represent some of the most significant properties in Southern California.
For inquiries and additional information please visit http://www.CBLuxuryRE.com.