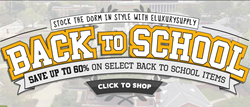 Just because students are leaving home to go to college, they shouldn't have to leave the comforts of home behind.
Evansville, IN (PRWEB) August 21, 2014
Luxury bedding and linen retailer eLuxurySupply.com has announced its top linen and bedding products for students going back to school this Fall. College students and their parents can find a number of luxury bedding items on the company's website that can allow young people to go back to school with a little bit of luxury.
"College students living away from home are often not provided the most comfortable bedding in their dorm rooms, and we provide a way for them to take a little luxury from home with them," said eLuxurySupply's eCommerce Manager, Kyle Schmidt. "Parents often have many unnecessary worries for their children when they are going off to school, so why not give them a luxurious sleeping experience so Mom and Dad have one less thing to be concerned with," he said.
Schmidt says that the company offers multiple items that are perfect for making sure students aren't uncomfortable in their dorm setting.
The company offers their own line of luxury mattress pads that can turn the most uncomfortable of mattresses into a Five Star Hotel sleeping experience. The Extra Plush Bamboo Top Mattress Pad is great for anyone who has a difficult time sleeping due to being too warm thanks to the breathability of the bamboo cover. The company's Extra Plush and Extra Thick pad is perfect for any student who has a very firm mattress to make it more like "sleeping on a cloud".
The company also sells a variety of Egyptian Cotton and Bamboo sheet sets that come in a Twin XL size, which is an essential size for many college dorm mattresses. A set of Egyptian Cotton 400, 650 or 1000 thread count Egyptian Cotton sheets is a way to send a college student back to school with some luxury that many college kids would only dream of. The Bamboo Sheets that eLuxurySupply provides are also a favorite this Fall, and are on sale on the site for up to 55% off retail prices.
The company also offers an array of down alternative comforter sets in multiple different colors, styles and designs that can liven up a dull dorm room. The Emerson Pinch Pleat Comforters are the perfect bed covering for students to bring a piece of the comforts of home with them. For students that like to change things up a bit often, the company is offering a line of affordable reversible comforters with two distinctly different colors that they can switch up day to day.
eLuxurySupply also offers Egyptian Cotton and Bamboo Bath Towel Sets that can replace any old and worn out towels that many students may have brought from a closet at home. These towels are some of the thickest and most absorbent towels on the market and can help turn a dorm room into a Five Star Hotel and Spa.
"Just because students are leaving home to go to college, they shouldn't have to leave the comforts of home behind," said Schmidt.
eLuxurySupply is currently offering up to 60% off on all of their back to school items on their website. Aside from their bedding products, eLuxurySupply also offers great prices on Oakley backpacks, laptop bags and duffels.
About eLuxurySupply.com
eLuxurySupply.com is a United States Veteran Owned and Operated company based in Evansville, Indiana that is quickly becoming one of the internet's most trusted and successful luxury superstores. eLuxurySupply is a Sam Tucker LLC owned and operated business and for any questions, comments or concerns, please call 1-800-977-7433 or email service(at)eLuxurySupply(dot)com.