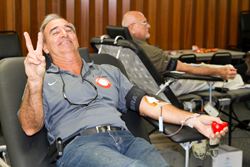 We have already booked next year's blood drive with the American Red Cross and we are sure that the participation will only increase, says organizer Emily Dunlap.
St. Louis, MO (PRWEB) August 21, 2014
Air Masters' fourth annual blood drive took place on August 13th and collected enough blood units to save 33 lives. This annual event is held in partnership with the American Red Cross of the Greater St. Louis region every summer when blood supplies are historically low. Employees from Air Masters, Gateway Mechanical and Automation Solutions are invited to participate as part of a shared philosophy of serving the needs of the community as well as the customer.
Organizer Emily Dunlap says the event was a huge success, not only providing life-saving blood supply, but also contributing to employee morale and supporting the local community. "We have already booked next year's blood drive with the American Red Cross and we are sure that the participation will only increase."