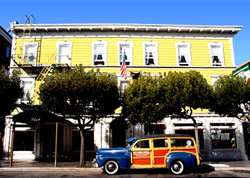 This is one of the most charming hotels we have ever been. It was definitely an addition to a real San Francisco experience.
SAN FRANCISCO, CA (PRWEB) August 22, 2014
Historic San Remo Hotel reaches another milestone, its 500th TripAdvisor Review, as well as a 2014 Certificate of Excellence.
To qualify for a TripAdvisor Certificate of Excellence, a business must maintain an overall rating of four or more TripAdvisor "Bubbles" out of a total of five. This certificate honors hospitality excellence and it is given only to hotels that consistently achieve good reviews by its users and extended to only the top performing 10 % of businesses.
The San Remo Hotel was built after the 1906 Earthquake by AP Giannini, founder of Bank of America. The Earthquake and fires destroyed much of the city. In the face of widespread devastation, Giannini set up a temporary bank, making loans proclaiming that San Francisco would rise from the ashes.
This Hotel was built in the traditional style of the Italianate Pensiones, which were common in the beginning of the 20th Century. It maintains its authenticity and old world charm by keeping its original layout and it is furnished with period pieces that were carefully chosen for each room.
Thanks to the stewardship of the Field Family who have lovingly cared for it for nearly 45 years, the San Remo Hotel in San Francisco reaches a milestone:
Their 500th TripAdvisor review written by a traveler from Paris, France.
"Charming and......Awesome!" *****
"This is one of the most charming hotels we have ever been. It was definitely an addition to a real San Francisco experience. Rooms are small but charming, every room is unique as each of them is decorated differently. Staff is great, knowledgeable, friendly and helpful; they give us great tips for restaurants and local attractions. If you are accustomed to the Hilton or that sort of hotel, San Remo is not for you; however if you are looking for a unique Victorian experience and do not mind sharing bathrooms you will love this place. Staying at the San Remo was like going back on time (no TV, no phones) which added charm to this hotel. My girlfriend and I loved the friendly environment and coziness of this place. Great experience!
Room Tip: Ask for a room with a sink and window, they are best located."
Of the hotel's recent TripAdvisor success, Tom Field, one of the owners of the San Remo Hotel said, "Reaching our 500th TripAdvisor review has been a proud moment in my 45 years at the San Remo Hotel. We have a unique niche in the hospitality industry in San Francisco, and adapting to the digital age has really helped us increase the ease of finding our hotel, plus hearing first hand from savvy travelers who read and write TripAdvisor reviews."
The hotel manages to balance its historic features with a modern twist; a comfortable place to lodge, offering free coffee, tea and lemon water all day, and free Wi-Fi for the modern day traveler at an affordable price and in an unbeatable location.
MEDIA CONTACT:
Citlali Chevaili
San Remo Hotel
(415) 440-5990
marketing(at)sanremohotel.com
http://www.sanremohotel.com