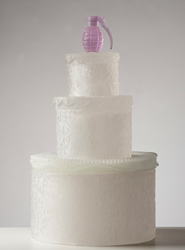 Santa Fe, NM (PRWEB) August 21, 2014
David Richard Gallery will present the newest body of work by Silvia Levenson that explores domestic violence against women. She explores this difficult subject using installations, glass sculptures and lenticular photographs in her second solo exhibition with the gallery. "A Subject To Avoid" will be presented August 29 through October 11, 2014 with an opening reception with the artist on Friday, August 29 from 5:00 - 7:00 PM. A fully illustrated on-line catalogue will accompany the exhibition. The gallery is located at 544 South Guadalupe Street, Santa Fe, New Mexico 87501, phone 505-983-9555 in the Santa Fe Railyard Arts District.
Silvia Levenson uses objects and images to say what is generally not said aloud, either because the subject of domestic violence is considered taboo or because of the potential shame and fear of retribution or harm to the accuser. She explores this unspeakable space that is situated between what can be seen or guessed by observers. The exhibition consists of installations, objects made in glass, photos and lenticular prints meant to explore feelings and actions that most people prefer to avoid. She explores this troubling situation in different ways. Family is usually considered a safe haven and a sanctuary, while there is evidence that shows it can also be a very dangerous place for women. Often, the aggressors against women are known by their victims and are family members who were once loved by the women and girls they harm. Objects in Levenson's exhibition, such as "Until Death Do Us Part"—a beautiful wedding cake and symbol of matrimony is empty and fragile with a pink hand grenade on top—and "Body of Evidence"—a wall installation of kiln-formed glass and found objects frequently used by men to cause harm to females—underscores this condition. In the photos and lenticular prints, Levenson explores the dynamics and tensions in relationships between couples, focusing on the differences between what is really felt and what is actually said. Since most people wish to fit into the idealized and idolized picture of "happily ever after", they often pretend that things are OK even if they are not. They do not want to confront the real issues, their true feelings or those who they love. Frequently, they worry too much about the other person's feelings or they simply fear them. That is why it is "A Subject To Avoid".
Silvia Levenson was born in Buenos Aires and currently lives and works in Italy. She is an international artist and has had more than 40 solo exhibitions in Venice, Rome, Milan, Amsterdam, Lyon, Buenos Aires, Barcelona, Berlin, Portland and San Francisco, among other cities, and her work has been included in numerous group exhibitions. Levenson's art can be found in the permanent collections of the Museum of Fine Arts (Houston, TX), New Mexico Museum of Art (Santa Fe), Corning Museum (Corning, NY), Musée du Verre (Sars Poteries, France), Tikanoja Art Museum (Vassa, Finland), Glasmuseum Ebeltoft (Denmark), Ernsting Glass Collection (Coestfeld, Germany), Museo Leon Rigaulleau (Argentina) and Museo del Vetro (Altare, Italy) among others.
David Richard Gallery, a contemporary art gallery in Santa Fe, specializes in post-war abstract art including Abstract Expressionism, Color Field, geometric and hard-edge painting, Op Art, Pop Art, Minimalism, Feminism and Conceptualism in a variety of media. Featuring both historic and contemporary artwork, the gallery represents many established artists who were part of important art historical movements and tendencies that occurred during the 1950s through the 1980s on both the east and west coasts. The gallery also represents artist estates, emerging artists and offers secondary market works.