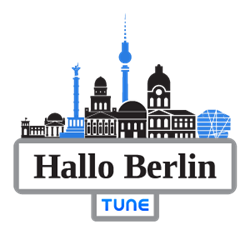 Seattle, WA (PRWEB) August 21, 2014
TUNE (http://www.tune.com), the leader in attribution analytics and the company behind the products MobileAppTracking (MAT), MobileDevHQ (MDHQ), and HasOffers, today announced the opening of a Berlin office, growing their roster of international locations focused on making the mobile marketing ecosystem better for everyone.
TUNE, which recently completed an acquisition of MobileDevHQ, has more than doubled in size in less than one year to more than 215 employees across seven offices worldwide: Seattle, San Francisco, NYC, Seoul, Tel Aviv, London and now Berlin. Former MySpace/Fox and Muzu.TV executive Julian Schroll has joined the company as Director of Business Development, Central Europe to represent TUNE in the the region, reporting directly to TUNE Chief Revenue Officer Ralf Hirt.
Berlin joins TUNE's London and Tel Aviv offices in the EMEA region, which are led by Shakeel Mughal and Aryeh Altshul, respectively. TUNE also recently brought on Cragg Nilson to focus on the Nordics and Leon Kosovsky to work in the Russian & Commonwealth of Independent States (CIS) market.
With clients in 150 countries, 30% of TUNE's revenue today comes from the EMEA region. The MobileAppTracking (MAT) product has experienced especially rapid adoption over the last two quarters, providing attribution for more than half of the top grossing apps in the iTunes and Google Play stores. Clients such as GoodGame Studios, Aeria Games, XYRALITY, Spotify, Sephora, Supercell, LINE, Gilt, JackThreads, UBER, Gumi, eBay Korea, and more use MAT to measure the performance of their mobile app marketing.
"Being originally from Germany, I'm personally proud to open our first continental European office in Berlin, one of the centers of mobile innovation," noted Ralf Hirt, Chief Revenue Officer at TUNE. "This aligns with our global mission to provide world-class technology and know-how to clients who are leading the way in mobile. I believe in Julian Schroll we've added a true expert with a strong background in both technology and marketing to the 30+ and growing EMEA team."
"Berlin is a city our team has fallen in love with over the years," said Micah Gantman, Vice President, Strategy and Business Development at TUNE. "Now our seventh TUNE location worldwide, opening in Berlin follows the success we have had historically going to where developers are making it happen. Similar to the Bay Area in the United States, Berlin is the heart of the European mobile startup world, and we are excited to be a part of it."
About TUNE
Founded and initially bootstrapped by twin brothers Lucas and Lee Brown, TUNE is the Seattle-based attribution analytics company behind the products MobileAppTracking (MAT), MobileDevHQ (MDHQ), and HasOffers. With a mission to make mobile marketing better for everyone, TUNE creates Software-as-a-Service (SaaS) products to help marketers manage performance advertising relationships across mobile and desktop. Named to the Inc. 5000 fastest growing companies two years running in both 2013 (#63) and again in 2014 (#88), and listed as a top 10 mobile advertising company by VentureBeat, TUNE is backed by Accel Partners (investment led by Rich Wong) and has more than 215 employees with additional offices in San Francisco, NYC, Seoul, Tel Aviv, London and Berlin.
Learn more at http://www.tune.com.
Media Contact Information:
Lane Buschel
Head of Communications
TUNE
press(at)tune(dot)com