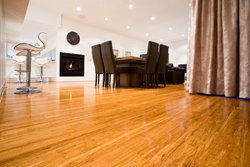 (PRWEB) August 21, 2014
Recently, BambooIndustry.com, one of the most famous bamboo product suppliers in the world, has added a new range of hand scraped bamboo floorings to its online category. Furthermore, the firm has launched an Autumn special offer for these elegant items. According to the company's marketing specialist, all clients can get a discounted price, up to 25% off; the promotion will come to an end on September 05.
Providing natural looks and available in different varieties, the company's new items are made with recycled bamboo and HDPE to resist weather, moisture and wear. It is true that BambooIndustry.com has been devoted to creating elegant floorings for many years. All its products feature graceful designs and quality materials; they are carefully made by experienced workers.
The reliable supplier aims to offer all kinds of affordable bamboo products for worldwide clients. It often launches special offers on new items. Its online workers are working hard to provide all people with an enjoyable and convenient shopping experience.
"We are quite happy to unveil the new range of hand scraped bamboo floorings. We created these new products with the special intention of expanding the online market. I think it is our responsibility to help new and old clients to get elegant floorings for their houses," the marketing specialist says.
About BambooIndustry.com
BambooIndustry.com is a website that belongs to BothBest Bamboo Flooring Co. Ltd., a professional supplier and exporter of bamboo products. Certified by both ISO9001:2008 and ISO14001:2004, the company has 8 years of experience in the manufacturing and wholesale of flooring products. It strives to bring its customers the latest styles and innovations of flooring, paneling, plywoods, furniture, and other high quality items.
More information can be found at http://www.bambooindustry.com/products/bamboo-flooring/hand-scraped-bamboo-flooring.html.