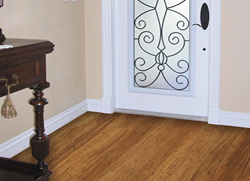 (PRWEB) August 22, 2014
BambooIndustry.com is an internationally well-known supplier and leader in the bamboo industry. The company has recently unveiled its new collection of elegant bamboo floorings. These new items are specially made for customers who are looking for high quality floorings for their own houses. Now, all of them are offered with great savings (up to 29 percent off). Before the end of August, all consumers can access these cheap products.
The company's bamboo flooring products are made using unique, high-pressure machines and high-temperature molds. All its products contain no added urea-formaldehydes. The current promotion will last for a limited time; those who are planning to buy discounted floorings online should visit its website as soon as they can.
BambooIndustry.com is an industry pioneer when it comes to creating useful and elegant floorings. Its new selection is well designed by experienced professionals; it comes in a lot of specifications. Before making the new items, BambooIndustry.com has done plenty of marketing research; it wants to ensure that all of the fresh floorings are customer-oriented products.
Furthermore, BambooIndustry.com is making full efforts to help the international customers to get cost-effective items. The rich experience and dedication enable the company to provide what customers actually need. It has promised to offer high quality items at affordable rates.
About BambooIndustry.com
BambooIndustry.com is a website that belongs to BothBest Bamboo Flooring Co. Ltd., a professional supplier and exporter of bamboo products. Certified by both ISO9001:2008 and ISO14001:2004, the company has 8 years of experience in the manufacturing and wholesale of flooring products. It strives to bring its customers the latest styles and innovations of flooring, paneling, plywoods, furniture, and other high quality items.
More information can be found at http://www.bambooindustry.com.