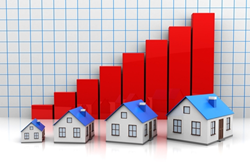 Affordability isn't suffering in all parts of the country, and the growing problem has yet to hit critical levels.
Chicago, IL (PRWEB) August 22, 2014
The Federal Savings Bank notes that while the rise in home values has helped more homeowners regain equity, it has been a detriment to some potential first-time home buyers who cannot afford to purchase a house.
According to an August 14th report by Freddie Mac, the problem of declining affordability has expanded. 11 more metro areas have become unaffordable:
Albuquerque, New Mexico
Colorado Springs, Colorado
Durham, North Carolina
Kingston, New York
Milwaukee, Wisconsin
Panama City, Florida
Salem, Oregon
Spokane, Washington
Springfield, Massachusetts
Tallahassee, Florida
Virginia Beach, Virginia
Freddie Mac calculated affordability based on local income, mortgage rates and house prices. Per the latest data, 47 of the 163 metros areas in the U.S. - or 29 percent of markets - are unaffordable. This equals 44 percent of households within the sample.
Most Americans live in an affordable market
Affordability isn't suffering in all parts of the country, and the growing problem has yet to hit critical levels. According to a recent August 7th report from RealtyTrac, local housing markets are staying away from dangerously low levels of affordability.
The report tracked 1,200 counties across the country and found 34 percent of counties surpassed their long-term averages for income-to-price affordability percentages since 2000. San Francisco County, California, topped the list for unaffordable markets.
"The good news is that none of the nearly 1,200 counties we analyzed for the second quarter has regressed to the dangerously low affordability levels reached during the housing price bubble, and even if interest rates increased 1 percentage point, only 59 counties representing 2 percent of the U.S. population would be at or above bubble levels in terms of affordability," said Daren Blomquist, RealtyTrac vice president.
Blomquist went on to say 81 percent of counties analyzed are at or below their historical averages, indicating most of the country remains affordable for prospective home buyers.
Some markets are inherently unaffordable
RealtyTrac's report noted some counties have a track record of having low affordability. This is particularly true among vacation markets such as Nantucket County, Massachusetts; Teton County, Wyoming; and Pitkin County, Colorado. These areas were accompanied by four of New York City's boroughs as well as San Francisco and Los Angeles counties.
For information about getting a low cost mortgage that can help you get the home you want in an unaffordable market, contact the Federal Savings Bank, a veteran owned bank.