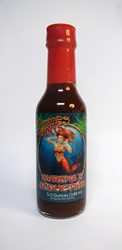 Whole Foods new Clearwater location to purchase Pirate Jonny's Award Winning products will be at the Westfield Countryside Mall, opening September 24.
Clearwater, FLorida (PRWEB) September 10, 2014
National Award Winner, Pirate Jonny's Caribbean BBQ, gets noticed by Whole Foods Market for its all natural blends that provides unique flavors of the Caribbean. The flavor profile will range from Sweet Island & Caribbean Rubs to Jamaican Jerk and Cajun Seasonings. In the Sauce category, whole foods has selected Pirate Jonny's, Guava Girl BBQ Sauce, a no-sugar added product that is a unique fruit-based sauce, great for seafood, vegetables and chicken. The newest product on the market, Syrena's Seduction Jerk Hot Sauce, has also been selected. Syrena's Seduction recently made its debut in the Louisiana Hot Sauce festival where it placed first for best Caribbean Hot Sauce. It also won an award in the marketing category for its label artwork, indicative of Weeki Wachee Mermaids, a local attraction in Florida.
Whole Foods Market is known for the highest quality natural and organic products as well as products for special diets like gluten-free, vegetarian, or vegan. Pirate Jonny's line of Caribbean flavors also fits these categories for its all natural Gluten, MSG free and low sodium products.
Another great feature of Whole Foods Markets is that the stores supply the consumer with hands-on information of the products carried in the form of recipes and demonstrations. Whole Foods demonstrations feature new cooking techniques, wine and cheese events, kids' classes, special guest chefs, healthy eating challenges, store tours, supper clubs, and more.
The new Clearwater location will feature local product demonstrations and Pirate Jonny's products will be available to taste on September 27 & 28th from 11-3p.m. at the Westfield Countryside Mall. Scheduled opening target date is September 24.
Whole Foods will host an event to highlight local business where Pirate Jonny's product demonstration and samplings will be available to the public September 27-28 from 11-3p.m.