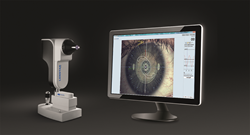 Haag-Streit Diagnostics will showcase a selection of its product portfolio and delegates will be given a fantastic opportunity to learn from experts in the field
Harlow, Essex (PRWEB UK) 22 August 2014
Haag-Streit UK (HS-UK), the leading manufacturer and distributor of gold-standard optometry and ophthalmic equipment, is pleased to announce Haag-Streit Diagnostics exciting programme for this year's European Society of Cataract and Refractive Surgeons (ESCRS) congress, which will be held at ExCel, London on the 13th – 17th September.
Haag-Streit Diagnostics will be exhibiting on booth F09 and will be showcasing a large selection of its product portfolio including the; newly-launched BX 900 LED slit lamp, LENSTAR LS 900 biometer, Octopus 600 perimeter and the BQ 900 LED with IM900 imaging module.
On Sunday 14th September, Haag-Streit Diagnostics will be hosting a lunchtime symposium entitled; 'Master Your Toric Planning for Improved Refractive Outcomes with the LENSTAR LS 900'. The symposium is divided into three presentations and each will provide delegates with the opportunity to learn from leading experts in the field.
Mr Warren E. Hill will be presenting the first of the three presentations; 'Get your Toric IOL Right, How to Best Plan Your Operation'. It will cover all areas of the planning and operation of Toric implants, when using the LENSTAR T-Cone Toric platform.
The second presentation, 'Lens thickness matters, Olsen challenging Holladay II' will be led by Mr Rick Potvin and will include lectures on clinical comparisons of the Olsen formula vs Holladay II and standard IOL calculation. Furthermore, Mr Potvin will illustrate how measured lens thickness with the LENSTAR improves the prediction accuracy of these latest generation IOL calculation formulae.
Finally, the third presentation, 'The Toric Enigma – Cracking the Code' will be delivered by Mr Graham Barrett. Mr Barrett will introduce the Barrett Toric Calculator and discuss the benefits of the integration of the EyeSuite IOL Toric Planner with the LENSTAR.
To register for the Symposium, delegates should visit http://www.haag-streit.com/events/escrs-lunchtime-symposium.html
Sam Laidlaw, HS-UK Product Manager, said, "The ESCRS is THE key event in the European ophthalmic calendar for professionals to learn about new product developments in the industry. Haag-Streit Diagnostics will showcase a selection of its product portfolio and delegates will be given a fantastic opportunity to learn from experts in the field by attending the 'Master your Toric Planning for Improved Refractive Outcomes with the LENSTAR LS 900' lunchtime symposium."
###
For news media enquiries, please contact:
Emily Byham
Marketing Co-ordinator
Email: ebyham(at)haag-streit-uk(dot)com
DDI: 01279 456260
Mobile: 07900 828709