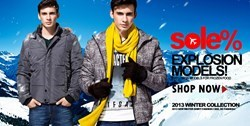 (PRWEB) August 22, 2014
Recently, Skmen.com, a distinguished garment supplier, has updated its product line with a new selection of girls' casual dresses. From today until August 31, all clients can enjoy a discounted price (up to 30 percent off) when they are shopping at the company's online store.
All of the company's new casual outfits are according to the newest quality standards; they are guaranteed to be fashionable and comfortable. In addition to the charming casual dresses, worldwide ladies can also access the other cheap items in its online store, including spring dresses, bohemian outfits, midi bodycon outfits, long sleeve sweater dresses and so on.
As one of the most loved online garment suppliers, Skmen.com feels obligated to provide the best items to the global customers. The company understands the significance of its products and services and holds that responsibility with the utmost seriousness.
Not all people can afford the expensive clothes from a retail store. Skmen.com has realized that and it is striving to create more affordable products. "We are proud to unveil the new assortment of casual outfits. In our online store, clients can find a huge selection of amazing items. All of them are made with top quality materials. We want to provide worldwide clients with all kinds of affordable clothes," the company's sales manager says.
About Skmen.com
Skmen.com, a reliable company founded in 2009, is one of the leading suppliers of men's and women's high quality clothes. It has more than 5000 customers from every part of the world; it hopes to help worldwide stylish ladies and gentlemen. Now, it is selling thousands of fashionable items online. For more detailed information about the company and its wonderful items, readers can visit http://www.skmen.com/.