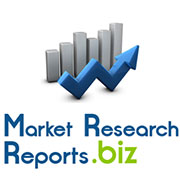 Latest Publication On Glioblastoma Multiforme Therapeutics In Asia-Pacific Markets To 2020 - Novel Therapeutic Approaches Target High Unmet Need In Newly Diagnosed And Recurrent GBM
Albany, NY (PRWEB) August 21, 2014
Glioblastoma Multiforme Therapeutics in Asia-Pacific Markets to 2020 - Novel Therapeutic Approaches Target High Unmet Need in Newly Diagnosed and Recurrent GBM', which provides in-depth analysis of the Glioblastoma Multiforme (GBM) therapeutics market within the Asia-Pacific (APAC) region, covering Australia, China, India and Japan. The report provides estimates of market size for 2013, along with market forecasts until 2020. It also covers disease epidemiology, treatment algorithms, treatment patterns, and in-depth analysis of the marketed and pipeline products. The value of the GBM market in the APAC region amounted to an estimated $49.4m in 2013, and is expected to register a Compound Annual Growth Rate (CAGR) of 11.5%, to reach $105.8m by 2020.
View full report at http://www.marketresearchreports.biz/analysis/218797.
The GBM market in India was the smallest of the APAC markets in 2013, but is expected to experience the highest growth rate in the forecast period, at a CAGR of 14.4%, due to having the highest number of promising candidates in the pipeline. Japan currently has the largest share of GBM market in the APAC region, at 48%, and is expected to experience healthy growth during the forecast period at a CAGR of 13.8%. The existing treatment landscape is bleak for both newly diagnosed and recurrent GBM, with temozolomide alone serving as the standard of care after surgery and radiation. For first-line treatment Rindopepimut, a novel vaccine, is in late-stage development in India and Australia, but it is limited to EGFRvIII patients. There are two strong candidates in the current pipeline for second-line treatment: Avastin and Cotara. Avastin is the first and only targeted therapy for newly diagnosed GBM, is already approved as second-line treatment in Australia and Japan, and is in Phase III development in China and India. Cotara is a single-infusion drug with a novel delivery route, which is in Phase II development in India. The expected launch of these three drugs is the key driver for growth in APAC GBM market. As all are expensive, even a modest uptake will increase the annual cost of therapy, and subsequently the market size.
Download detail report with complete TOC at http://www.marketresearchreports.biz/sample/sample/218797.
Scope

A brief introduction to GBM, including disease pathogenesis, risk factors, diagnosis, treatment options and algorithm
In-depth analysis of major marketed products, covering product performance, life-cycle, and a heat map depicting comparative analysis of safety and efficacy parameters
A comprehensive review of the GBM pipeline – including individual analysis of promising late-stage pipeline drugs that are likely to enter the market during the forecast period – analyzed on the basis of phase distribution, molecule types and molecular targets
Additional clinical trial analysis by phase, trial size, trial duration and program failure rate analyses, for each molecule type and mechanism of action
Multi-scenario forecasts of the GBM market from 2013 to 2020 in the four APAC countries
An overview of key licensing and co-development agreements that could have an impact on growth trends
Analysis of the key drivers and restraints that have had and are expected to have a significant impact on the market
Browse all latest reports by GBI Research at MarketResearchReports.biz at http://www.marketresearchreports.biz/publisher/2.
Reasons to Buy
Align your product portfolio to the markets with high growth potential
Develop market entry and expansion strategies by identifying the potential regions and therapeutic segments poised for strong growth
Devise a more effectively tailored strategy through the understanding of key drivers and barriers in the GBM market
Develop key strategic initiatives based on an understanding of key focus areas and leading companies
Accelerate and strengthen your market position by identifying key companies for mergers, acquisitions and strategic partnerships
Related Reports
Sleep Apnea Diagnostic And Therapeutic Devices Market (Actigraphy, Polysomnography (PSG) Systems, Positive Airway Pressure (PAP) Devices, Oral Appliances And Others) - Global Industry Analysis, Size, Share, Growth, Trends And Forecast, 2013 - 2019
View full report at http://www.marketresearchreports.biz/analysis/138654.
Rapid pace of technological developments in the field of sleep apnea devices has ensured introduction of efficient diagnosis and treatment methodologies that has rendered enhanced patient outcomes. The sleep apnea devices market is witnessing impressive growth globally majorly due to tremendous demand for novel and innovative diagnostic and efficient treatment methodologies. Treatment of sleep disorders is essential in order to ensure healthy lifestyle. The speedy growth of the overall medical device industry is considered to be a major driving force for the growth of the sleep apnea diagnostic and therapeutic devices market.
Download detail report with complete TOC at http://www.marketresearchreports.biz/sample/sample/138654.
The report analyzes the global market for sleep apnea devices by two major segments namely diagnostic and therapeutic devices. Also, a detailed geographical landscape has been provided. The diagnostic devices segment has been further categorized into four major diagnostic devices namely actigraphy systems, polysomnography devices, respiratory polygraph and single channel screening devices (pulse oximeters). Therapeutic devices segment has been further classified into five major devices namely, airway clearance systems, adaptive servo-ventilators (ASV), positive airway pressure (PAP) devices, oral appliances and oxygen devices.
Equine Healthcare Market (Diagnostic Products, Therapeutic Products and Supplement Products) - Global Industry Analysis, Size, Share, Growth, Trends and Forecast, 2013 - 2019
View full report at http://www.marketresearchreports.biz/analysis/175288.
The global equestrian market is a multi-billion dollar industry that comprises horse racing and betting, leisure and competitive riding and has spawned and supports multifarious secondary markets; the equine healthcare market ranks as the one of the key secondary markets. This report exclusively studies the market for equine healthcare from varied aspects such as, in terms of equine diagnostic products, equine therapeutic products and equine supplement products; and is thus classified into three prime segments namelyequine diagnostic products market, equine therapeutic products market and equine supplement products market. The market size and forecast for the period 2013–2019, in terms of USD million, considering 2012 as the base year has been provided for each segment and sub-segments in the report. The compound annual growth rate (CAGR) for each segment and sub-segments has been provided for the forecast period from 2013–2019.
Download detail report with complete TOC at http://www.marketresearchreports.biz/sample/sample/175288.
Geographically, the equine healthcare market has been classified into four regions -North America, Europe, Asia-Pacific and Rest of the World (RoW). The market size and forecast for each region along with their market growth rate has been highlighted. The market overview section of the report comprises of a qualitative analysis of the market in terms of drivers, restraintsand opportunities, along with market attractiveness analysis.
MEMS In Medical Applications Market (Applications - Diagnostic, Monitoring, Therapeutic & Surgical, Sensor Types - Pressure, Temperature, Microfluidics, Accelerometers, Flow And End Users - Home Healthcare, Hospitals And Healthcare Research) - Global Industry Analysis, Size, Share, Growth, Trends And Forecast, 2013 - 2019
View full report at http://www.marketresearchreports.biz/analysis/173698.
Micro-Electro-Mechanical Systems, MEMS is defined as devices made up of miniaturized mechanical and electromechanical elements using micro fabrication techniques. MEMS comprises of miniaturized structures such as sensors, actuators and microelectronics. The prime elements are micro sensors and micro actuators. These are also called as transducers which help in conversion of one form of the energy into another. Technological advances have led to development of a synergistic relation between the unrelated fields such as biology and microelectronics. MEMS finds its application in medical sector especially diagnosis and biotechnology. There has been a paradigm shift of patient taking treatment from hospital to home care.
Download detail report with complete TOC at http://www.marketresearchreports.biz/sample/sample/173698.
Rise in healthcare expenditure compounded by geriatric population is driving the demand for portable medical diagnostic devices. In addition, need for rapid diagnosis coupled with minimum turnaround time has compelled medical device manufacturers to focus on providing a single platform for multiple diagnostic tests. By leveraging MEMS, manufacturers can produce significantly smaller, low-power consumption connectors that deliver high performance than larger components used in devices. Governments across the globe have realized the potential of nanotechnology and MEMS in healthcare and are supporting the growth of this industry through significant funding.
About Us
Marketresearchreports.biz is the most comprehensive collection of market research reports. Marketresearchreports.biz services are especially designed to save time and money of our clients. We are a one stop solution for all your research needs, our main offerings are syndicated research reports, custom research, subscription access and consulting services. We serve all sizes and types of companies spanning across various industries.
Browse Blog at http://todaysmarketplace.blogspot.com/.