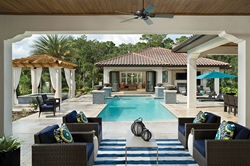 (PRWEB) August 22, 2014
Today, consumers are taking less vacation than ever and even fewer consumers are taking their full vacation allotment at one time. Many workers are taking long weekends or several days off at a time. This leaves less time for actual travel and makes a "stay-cation" (where you simply stay at home) more attractive.
A new article on "Stay-cations" provides some great ideas for staying at home and not simply sitting around the house. From special events, to themed dinners, the article spells out what a homeowner could do to create a memorable stay-cation. The article offers something for every vacation budget.
The article was prepared by Arthur Rutenberg Homes, a luxury custom home builder. They found that many of their new homeowners would rather stay at home and use their new homes' amenities than travel, but wanted to make sure they had "something to do".