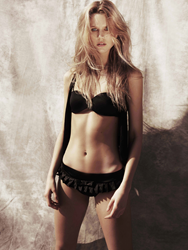 The thing I notice most impacting my appearance, my glow, my skin and whole body in general," Jayne counsels, "is the heart, happiness and quality of life.
New York, NY (PRWEB) August 26, 2014
British born fashion model Jayne Moore recently spoke about how she approaches her profession more as a science than as the typical walk in the park which many perceive modeling to be. She realizes that for the uninitiated, modeling appears to be the simplest thing in the world, as most people don't recognize the hard work and endless hours one must devote to maintaining one's health and stamina. As such, Jayne adamantly advises aspiring models that they must be prepared to take responsibility for their own physical well-beings if they aim to maintain a long-term career in the modeling industry.
This practical side to modeling is something the typical fan on the street is not particularly familiar with, but Jayne has several secrets to staying fit that even non-models would do well to adhere to. As she tells young models, showing up and looking your best is only half the battle. The other half is sustaining one's marketable appearance in the chaos of daily life and amidst the numerous challenges one encounters along the way. As Jayne tells it, this requires a combination of eating healthy, regular exercise, and a healthy attitude. "The thing I notice most impacting my appearance, my glow, my skin and whole body in general," Jayne counsels, "is the heart, happiness and quality of life." She continues that, "Life is all about balance and moderation. Don't neglect to make time for the people and the things that give you that 'je ne sais quoi' sparkle back."
Naturally, one of the most important, and most obvious, elements of staying healthy, Jayne reminds her listeners, is staying fit. While there is no better time than the present to start, Jayne recommends initially finding a personal trainer that you can trust, someone who will push when you need to be pushed, motivate when you feel discouraged, but also make you laugh and make the training process enjoyable. "There are so many things that we learn from classes, DVDs, and magazines that we are doing wrong and have no idea," she warns, "and not only is this counterproductive and ineffectual, but you can also do yourself a lot of damage." Although one, ultimately, must take responsibility for her own fitness regime, Jayne suggests that finding the right trainer is essential when making a commitment to exercise.
One of the other important factors that Jayne Moore discussed for maintaining a marketable physical presence is by paying careful attention to what one eats. As a self-confessed food lover, Jayne knows the pitfalls of reaching for "processed rubbish with unrecognizable ingredients and an endless shelf life." Although she understands that there are times when only junk food might be available, it is dangerous to make their empty calories a habit when one could just as easily explore the myriad food options available today. Jayne considers food to be a vital stimulant that should "be the fuel for your fire…charging up every cell in your body and boosting your immune system."
Average people flipping through the pages of magazines acknowledge the impossibly beautiful images laid before them and imagine that the impeccably realized photographs just sort of "happen," having no knowledge of the work involved in crafting the perfect advertisement. Model Jayne Moore, on the other hand, informs aspiring models that there is much work involved in making modeling look so easy.
Read more about Jayne Moore here: http://www.jaynemoore.com/