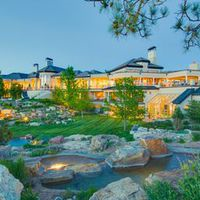 Pompano Beach, FL (PRWEB) August 22, 2014
Two of the biggest home auctions in recent years including a Colorado mansion that is the largest private home auction ever held and a Nevada compound with a Jack Daniel's themed train depot, fully restored 1923 Baltimore & Ohio caboose poker parlor and a firehouse complete with fully functioning 800-gallon 1962 fire truck are featured this week at TopTenRealEstateDeals.com.
"Colorado Mega Mansion Auction"
According to the auction house, a Colorado mansion with 50,000 square feet of indoor and outdoor living space on 72 acres, 11 en-suite bedrooms, two elevators, 3,000-square-foot library wing, four kitchens and a two-lane bowling alley will be the largest private residence to ever go to auction.
Located near Denver, the home has two kitchens on the main floor, workstation alcove, conference room, music room, office, and two private decks. The master wing includes two master suites with silk carpeting, the executive boardroom and master study with its own bar and fireplace, kitchenette, laundry facilities, his-and-hers closets, and bathrooms and terraces accessed by both masters. The mansion's first level contains a home theater with a snack bar, wine cellar with wrought iron door, family room, custom cherry wood bar, and a large area for multiple uses. The second level of the recreational level includes a conference room, an exercise room, two-lane bowling alley with a full complement of bowling shoes in all sizes, a lounge and a nightclub with a stage. The estate also features a huge indoor pool with changing rooms and bathrooms, arcade game room, full service bar, steam and sauna rooms. The grounds of the massive estate include cascading waterfalls, pond, 3,406-square-foot caretaker's house, and enough garage space for at least a dozen cars and an auto barn for a collector's car collection.
The mansion goes to no-reserve absolute auction on September 27th and will be conducted by Supreme Auctions. The estate was previously listed at $22 million.
"Nevada Jack Daniel's Train Depot Auction"
Also going to auction in September is a Nevada ranch with a Jack Daniel's themed train depot, a fully restored 1923 Baltimore & Ohio caboose poker parlor and a firehouse complete with fully functioning 800-gallon 1962 fire truck.
Located near Lake Tahoe at the foot of the Eastern Sierra Mountains, the Tuscan-inspired main house has three bedrooms and bathrooms, a gym, large terrace and a three-car garage with workshop and storage. Nearby is a guest house of hand-hewn logs that was featured in "Log Home Design Ideas" and a 5,000-square-foot automotive workshop. Improvements on the land include a main gated entrance lined with 200 flowering pear trees, an award winning eight-acre vineyard producing an annual 15 tons of grapes currently being sold to Tahoe Ridge Winery, acres of pristine fruit and nut orchards, a four-acre pasture, ten ponds with eight waterfalls, two year-round mountain creeks that produce 30,000 gallons of water an hour, and the oldest stand of Aspen trees in Nevada along with Ponderosa, Jeffery Pines and Sequoia Redwood trees.
Concierge Auctions will be conducting the event on September 4th with an auction reserve set at $5 million. The ranch was previously listed at $15.5 million.
Visit TopTenRealEstateDeals.com for more celebrity, historic, famous and spectacular homes.