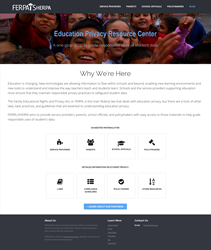 Washington, D.C. (PRWEB) August 21, 2014
As schools increasingly rely on data to improve education, and as teachers increasingly rely on technology in the classroom to improve the learning experience, privacy concerns are being raised about the collection and use of student data. With 'back to school' now in full-swing, and to address both the promise and challenges surrounding privacy and data in education, the Future of Privacy Forum (FPF) today unveiled a first-of-its-kind, one-stop shop resource website providing parents, school officials, policymakers, and service providers easy access to the laws, standards and guidelines that are essential to understanding student privacy issues and navigating a responsible path to managing student data with trust, integrity, and transparency.
More than at any other time in the evolution of education, data-driven innovations and use of emerging technologies – such as online textbooks, apps, tablets and mobile devices, and internet-based learning - are bringing advances and critical improvements in teaching and learning, with profound implications.
At the same time, the increased use of vendors and data is matched by the need for heightened responsibility to manage and safeguard student data and implement policies that benefit education and minimize risk. Concerns are being raised about how student data is collected and used in a next-stage learning ecosystem buzzing with social media, mobile devices, central databases, student records, Big Data, and an array of vendors and software.
The new, resource-rich FERPA|SHERPA website – named after the core federal law that governs education privacy – seeks to address these opportunities and concerns. The unique site hosts a comprehensive, digital dashboard of quality education privacy-related offerings for four distinct audiences: parents, service providers, schools, and policymakers.
To ensure parents have a voice in the ongoing privacy debate, the site will also host a blog written by parent privacy advocate Olga Garcia-Kaplan, a Brooklyn, NY public school parent of three children.
Some of the assets available at FERPA|SHERPA include:

Vendor quick tips – for app and software developers
Overview and explanation of relevant federal laws and policies on student data – such as FERPA, COPPA, PPRA, ESRA and CIPA
Policy papers about education privacy
Clearinghouse of education websites and resources for parents and school administrators
Topical blog that brings a parent's perspective to the many facets of privacy issues related to learning and education
Ongoing expertise provided by FPF staff, partners, and other stakeholders to help shape and guide understanding of data privacy and responsible use
"Getting privacy right in student education requires a partnership of trust between families, teachers and schools, technology companies and education officials," said Jules Polonetsky, executive director, FPF. "Any weak link in this chain of responsibility could undermine education and risk student data. With FERPA|SHERPA, we are making sure that the laws and best practices are easy to find."
"Since our creation, Edmodo has been focused on safeguarding user privacy, and we're excited to partner with FPF on this effort to provide schools, teachers, and parents with great resources about student privacy issues," said Aden Fine, chief privacy officer of Edmodo. "Education is critical to addressing questions about privacy, and we think the FERPA|SHERPA website will really help the public better understand these complicated issues."
"Parents have to sort through a tremendous amount of information issued about student data privacy to learn how and why data compiled pertaining to their children may be used. As a parent, the FERPA|SHERPA site is an invaluable resource for obtaining timely, accurate and impartial information necessary to understand this evolving landscape," said Olga Garcia-Kaplan, parent and advocate for student data privacy.
"Educational leaders, service providers, parents and policy makers increasingly need accurate and reliable information on privacy issues. For too long, it has been a real challenge to find that information. The Future of Privacy Forum's new FERPA|SHERPA is a great starting place to find what you need," said Keith Krueger, CEO, Consortium for School Networking.
"Protecting student data and privacy involves navigating myriad regulations, policies, and practices," said Marsali Hancock, CEO & President, iKeepSafe. "iKeepSafe has worked with schools, parents, students, and industry to promote safe and effective use of technology, and we are thrilled that FERPA|SHERPA is providing these stakeholders with additional resources on important laws and best practices to protect student data."
The FERPA|SHERPA website initiative – which began in the fall of 2013 - is the first of many offerings generated by the FPF on education privacy, which began as the FPF invested its privacy expertise and leveraged staff talent in education issues and subsequently developed a comprehensive education privacy campaign with wide stakeholder engagement – including parents, teachers, school administrators, trade associations, and leading education and technology companies in the private sector.
In addition, the FPF today released an education privacy whitepaper that has been published in a special issue of the International Review of Information Ethics, "The Digital Future of Education." The piece – "The Ethics of Student Privacy: Building Trust for Ed Tech" - is authored by Polonetsky and Omer Tene, Vice President, Research & Education, IAPP, and analyzes the opportunities and challenges of data-driven education technologies and how key stakeholders should address them.