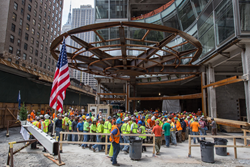 The concrete-core-first construction technique creates a stronger, more robust building that can be built more efficiently and cost effectively
(PRWEB) August 21, 2014
Turner Construction Company is proud to announce the topping out of 7 Bryant Park, a 30-story, 474,000-square-foot office building for developer Hines. Turner upheld an aggressive schedule and achieved this milestone, and the completion of all concrete work, on time through a collaborative, team-oriented approach and effective communication with all stakeholders.
Pei Cobb Freed & Partners' visionary architectural design offers 200,000 square feet of striking glass features, including 10-foot glass panels adjacent to two conical incisions carved into the corner of the building. Tenant amenities will include a 10,000 square foot lobby retail space, a fitness center, an exclusive rooftop terrace and direct access to public transportation. Of note, 7 Bryant Park is NYC's first Wired pre-certified Platinum building. "This exclusive WiredNYC pre-certification exemplifies Hines' commitment to its tenants," said Turner Project Executive, Patrick Murray.
A unique feature of this project, shared by only one other building in New York, is concrete core first construction. "The concrete-core-first construction technique creates a stronger, more robust building that can be built more efficiently and cost effectively," said Turner Project Manager, Michael Nolan, P.E., LEED AP. The core serves as the lateral load-resisting structural frame that was built ahead of the connecting steel framing.
"The core presented a constructability challenge to build upwards while carefully coordinating vertical collaboration of concrete, iron and elevator subcontractors in such a high-profile location," said Turner Project Engineer, Susan Fusi. She went on to say that the concrete core is composed of a total of 950 tons of rebar and 9,200 cubic yards of concrete for 2.5-foot thick walls, poured at a rate of 4 days per floor. Turner used an innovative climbing form system called Tru-lift, composed of steel grid support and hydraulic jack systems, to embed the previous floor's cast placement and safely jump up to the next floor.
Turner's safety program recently earned the company OHSAS 18001 certification, which recognizes a commitment to safety and the successful implementation of preemptive safety initiatives such as Ladders Last, an award-winning policy the team implemented on the 7 Bryant Park project. Under the policy, stable alternatives such as scissor lifts, scaffolding, and mobile platforms, replace ladders. "Our proactive approach to safety has decreased risk exposure in this complex building project and will potentially save time and money," said Turner Safety Manager, Elijah Aidelogie.
Turner also adhered to strict rules regarding pedestrian and traffic safety during operations, which required communicating effectively with a staff of approximately 250 union workers from the more than 30 companies on site at any given time. Turner coordinated delivery times, designated loading zones, and phased the project to meet a delivery schedule of 15 concrete trucks daily.
"We allocated half hour time intervals during morning hours to unload each truck," stated Randy Brzezinski, Turner Project Superintendent. "Since 40th Street is a through-street to the Lincoln Tunnel, we scheduled trade flow to alleviate afternoon commuter traffic." He specified that only two trucks at a time were permitted to queue and make deliveries on Sixth Avenue. Additionally, the number of subcontractors allocated to assist with deliveries was limited, and the team enforced time-specific sidewalk closures to allow safer and more efficient direct hoisting of heavy steel and other materials off the trucks.
Turner also used Just-in-Time delivery – which limits material deliveries to items ready to be installed, reducing on-site material storage and improving housekeeping and safety – to manage the flow of trades and meet the project's fast-track schedule. Developing an electric chain-flow system to facilitate glass deliveries from a locally sourced vendor, Turner arranged for crate-less, nightly deliveries of 40 glass curtainwall panels. Once they were on site, subs arranged the panels for each floor on custom-made dollies and sent them directly to their installation areas via winch and exterior hoist. "We developed custom-made dollies to decrease time, labor and wood debris affiliated with traditional crate delivery systems," continued Brzezinski. The team also took this approach for sections of the building's conical glass structures.
Set on Sixth Avenue between 39th and 40th Streets with expansive views of Bryant Park, 7 Bryant Park offers countless neighborhood retail, dining and lodging amenities and ideal access to several modes of transportation, including immediate building access to five subway lines, with Grand Central Terminal and Pennsylvania Station just one subway stop away. 7 Bryant Park is scheduled for completion in 2015.
About Turner Construction Company
Turner is a North America-based, international construction services company. Founded in 1902, Turner first made its mark on the industry pioneering the use of steel-reinforced concrete for general building, which enabled the company to deliver safer, stronger, and more efficient buildings to clients. The company continues to embrace emerging technologies and offers an increasingly diverse set of services. With an annual construction volume of $9 billion, Turner is the largest builder in the United States, ranking first in the major market segments of the building construction field, including healthcare, education, sports, commercial, and green building. The firm is a subsidiary of HOCHTIEF, one of the world's leading international construction service providers. For more information please visit http://www.turnerconstruction.com.
About HOCHTIEF
HOCHTIEF is one of the most international construction groups worldwide. The company delivers complex infrastructure projects, in some cases on the basis of concession models. The Group operates in the transportation infrastructure, energy infrastructure and social/urban infrastructure segments as well as in the contract mining business. With nearly 81,000 employees and a sales volume of more than EUR 25 billion in FY 2013, HOCHTIEF is represented in all the world's major markets. With its subsidiary Leighton, the Group is market leader in Australia. In the USA, the biggest construction market in the world, HOCHTIEF is the No. 1 general builder via its subsidiary Turner and, with Group company Flatiron, ranks among the most important players in the field of transportation infrastructure construction. Because of its engagement for sustainability, HOCHTIEF has been listed in the Dow Jones Sustainability Indexes since 2006. Further information is available at http://www.hochtief.com/press.