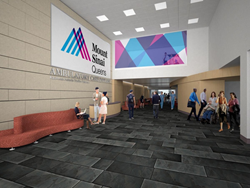 ASTORIA, NY (PRWEB) August 21, 2014
Hospital officials, community leaders and elected officials today gathered for a "topping off" ceremony for the new building at Mount Sinai Queens, marking the completion of the steel construction phase of the $125 million expansion and modernization project. During the event, hospital officials also announced a major donation from George S. Kaufman, Chairman of the nearby Kaufman Astoria Studios, for which the entrance area to the Ambulatory Care Pavilion will be named. The project, which began late last year, is expected to be completed in 2016.
Joining Mount Sinai staff and community leaders for the ceremony were Kenneth L. Davis, Chief Executive Officer and President, Mount Sinai Health System; David L. Reich, MD, President and Chief Operating Officer, The Mount Sinai Hospital; Caryn A. Schwab, Executive Director, Mount Sinai Queens; George S. Kaufman, Chairman of the Kaufman Organization and Kaufman Astoria Studios; Hal. G. Rosenbluth, President and CEO, Kaufman Astoria Studios; Melinda Katz, Queens Borough President; and New York State Assembly Member Aravella Simotas.
"It is fitting that today, we are creating a new chapter in Mount Sinai's history right here in Queens," said Kenneth L. Davis, MD, CEO and President of the Mount Sinai Health System. "This area – where the hospital stands today - has been a healing ground and has provided healthcare services to the community for over 120 years. Today, we are proud to continue and improve upon that tradition."
Caryn A. Schwab, Executive Director of Mount Sinai Queens, thanked Mr. Kaufman in her remarks. "Kaufman Astoria Studios has long played an integral part in the creative and economic vibrancy of our City, and Mr. Kaufman's generous gift helps ensure that Mount Sinai Queens can continue to play a major role in improving the health and quality of life for the residents of Queens."
The addition to Mount Sinai Queens will feature a new, five-story building – with infrastructure in place to allow for a sixth floor, as needed – along with an enlarged Emergency Department, new operating suites, and multispecialty outpatient care, as well as advanced imaging and laboratory services.
The Kaufman Astoria Studios Entrance will welcome visitors and their families to the Ambulatory Care Pavilion, a striking feature of the new building, with its high ceilings and natural light from a glass-paneled façade. (See attached rendering.)
"Kaufman Astoria Studio has long been a community neighbor since 1980," said George Kaufman, Chairman, Kaufman Organization and Kaufman Astoria Studios. "When you are a member of a community you help your neighbors. We are thrilled to support Mount Sinai and look forward to helping provide better health care for the people of Western Queens and throughout the borough."
"Mount Sinai Queens is transforming, and leading, health care in the 21st century, and our new building represents the model hospital for the future of medicine," said David L. Reich, MD, President and COO of The Mount Sinai Hospital. "We are seeing the gold standard rise here before our eyes, and it is fantastic to see."
As part of the ceremony, attendees signed a structural steel beam before it was hoisted into place and secured atop the building's frame.
The new Mount Sinai Queens will feature:

An expanded, state-of-the-art Emergency Department (ED) with 36 patient bays, eight observation beds, and a "drive-through" ambulance bay that will reduce the presence of ambulances outside the hospital, a separate walk-in entrance, and a new imaging suite.
Seven new operating rooms with the latest technology – for a total of ten OR suites – together with holding, recovery, and waiting rooms.
Expanded outpatient medical services, including:
o An integrated, multispecialty medical practice
o New primary care physicians in internal medicine, family medicine, Ob/Gyn, and pediatrics
o New specialists in cardiology, endocrinology, gastroenterology, general surgery, pulmonary, orthopaedics, thoracic and vascular surgery
o A full imaging suite, including MRI, CT , bone density, mammography, X-ray and ultrasound
o Integrated laboratory services, allowing physicians to view blood test results before seeing patients, and eliminating unnecessary return visits
In addition, the new building will have new boilers, chillers and emergency generators that will service the entire campus. New windows will be installed in the existing facility, and central air conditioning will be provided to all patient rooms.
About Mount Sinai Queens
Mount Sinai Queens is a 235-bed licensed acute care hospital, providing adult medical and surgical services, with a team of nearly 500 physicians representing close to 40 medical and surgical specialties and sub-specialties. Between the physicians and staff, 35 languages are spoken; just one of the many ways that Mount Sinai Queens responds to the needs of the culturally diverse population of our community. Mount Sinai Queens serves Western Queens and beyond by providing primary and specialty care; occupational, speech and physical therapy; outpatient surgery; cancer care and a range of radiological testing.
Mount Sinai Queens is the first and only community hospital to bear the prestigious Mount Sinai name and is unique in the community because it is not just affiliated with Mount Sinai Manhattan— it is a fully integrated part of The Mount Sinai Hospital, combining medical excellence with the compassionate, caring environment you expect from a community hospital. For more information, visit http://www.mshq.org/ or find us on Twitter.
About the Mount Sinai Health System
The Mount Sinai Health System is an integrated health system committed to providing distinguished care, conducting transformative research, and advancing biomedical education. Structured around seven member hospital campuses and a single medical school, the Health System has an extensive ambulatory network and a range of inpatient and outpatient services—from community‐based facilities to tertiary and quaternary care.
The System includes approximately 6,600 primary and specialty care physicians, 12‐minority‐owned free‐standing ambulatory surgery centers, over 45 ambulatory practices throughout the five boroughs of New York City, Westchester, and Long Island, as well as 31 affiliated community health centers. Physicians are affiliated with the Icahn School of Medicine at Mount Sinai, which is ranked among the top 20 medical schools both in National Institutes of Health funding and by U.S. News & World Report.
For more information, visit http://www.mountsinai.org, or find Mount Sinai on Facebook, Twitter and YouTube.
# # #