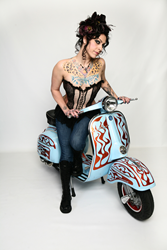 This weekend will bring together the two loves of my life.
DAVENPORT, IA (PRWEB) August 26, 2014
American Pickers star and Iowa native Danielle Colby is bringing two of her branded events to her home state this October. The American Vintage Market October 25 and 26 introduces antiques, vintage and collecting to a younger audience while the Iowa Burlesque Festival falls into Colby's other passion, Burlesque performance.
"I love both pickin' and peelin'," says Colby. "This weekend will bring together the two loves of my life."
Held October 25 and 26, American Vintage Market is a joint production between Colby and Vintage Promotions, which produces the Grand Rapids Antiques Market, Dallas Vintage Clothing and Jewelry Show, Vintage Garage Chicago and other events. The show will feature a hundred or more dealers offering their curated selections of vintage merchandise including furniture, electronics, housewares, art, decor, kitchenware, advertising memorabilia, posters and more.
Held at the Adler Theater October 24 and 25, the second annual Iowa Burlesque Festival will feature Colby as Dannie Diesel, and headliners including Ginger Valentine, Iva Handfull, The Magic of Dante, Michelle L'amour, Missy Lisa, Poppy Daze, Elle Dorado, Minnie Tonka, Loulou Dvil, The Baron. Music will be provided by Davina and the Vagabonds and the Black Eyed Vermillion.
Thousands are expected to attend the events.
More information of American Vintage Market is available at http://www.americanvintagemarket.com. More information on the Iowa Burlesque Festival is available at http://www.iowaburlesquefestival.com.