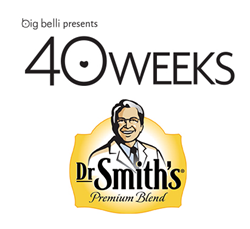 New York, NY (PRWEB) August 26, 2014
Big Belli, parenting content media brand, and Dr. Smith's®, a beloved diaper rash brand, have announced today that they have entered into a strategic partnership to help guide expecting mothers through the journey of pregnancy. Dr. Smith's® will serve as a sponsor of Big Belli's soon-to-be-released "40 Weeks" documentary.
Directed by Christopher Henze, "40 Weeks" is dedicated to supporting the comfort and health of pregnant women and babies nationwide. The film will focus on the weekly milestones women experience during the course of their pregnancy, while covering popular and thought-provoking questions that will help put expectant families at ease. "I am truly honored to make a movie that can give back to the community of pregnant women and help them through their pregnancy," said Henze.
As a family-owned company for three generations, Mission Pharmacal Company, the parent company for the Dr. Smith's® brand, has been committed to the unique healthcare needs of women throughout all stages of life for more than 65 years. The company's pediatrician-developed Dr. Smith's® Diaper Rash Ointment has been a staple in nurseries for more than 50 years thanks to its premium blend of ingredients that treats even severe diaper rash, fast.
Parents are celebrating the new Dr. Smith's® Diaper Rash Spray product, an innovation in the treatment of diaper rash designed to make the task of diaper changing quicker and easier. The touch-free, spray-on product creates a moisture barrier to treat diaper rash and protects sensitive skin from wetness. Just spray it, leave it, and let it work, no need to rub it in. The formula won't cake on or run, and the cooling spray helps soothe irritated baby bottoms.
Dr. Smith's® will support "40 Weeks" by cross-promoting the documentary to provide expectant parents with expert knowledge and informative advice. The Dr. Smith's® brand has built a devoted following through their social media and grassroots initiatives. The brand has also partnered extensively with mom bloggers from across the county to collect and share unique perspectives on parenting and will work with its partners to help promote the "40 Weeks" documentary.
"Sponsoring the '40 Weeks' documentary is a natural fit for Dr. Smith's®," said Allan Avery, Mission Pharmacal Director of Consumer Products. "We are proud to be a part of a film connecting with people on their journey to parenthood."
Mission Pharmacal supports babies before and after they are born, which is why their top-selling CitraNatal® family of prenatal vitamins, is also sponsoring "40 Weeks." Prenatal vitamins before, during, and after pregnancy can fill important nutritional gaps and optimize prenatal and infant nutrition.
To learn more, watch educational videos and to meet the families featured in "40 Weeks," please visit 40weeksthemovie.com/about-movie/about. For more information about Dr. Smith's® Diaper Rash Ointment and Spray, visit DoctorSmiths.com.
About Big Belli:
Big Belli is a parenting content media and social networking brand committed to the health and well-being of babies and mothers. For expectant families Big Belli provides an emotional connection, easily digestible pregnancy information, in film form, and a community of people who can share experiences and expert advice. With its first offering of the documentary 40 Weeks, Big Belli is on its ways to providing moms-to-be with a comforting place to turn to during this joyous, yet stressful time in their lives.
About Dr. Smith's® Diaper Rash Ointment & Spray:
Dr. Smith's® was developed in 1963 by Dr. Forrest M. Smith, Jr., a San Antonio pediatrician. Its effectiveness has earned it the recommendation of pediatricians and pharmacists everywhere. Dr. Smith's® is part of the Mission Pharmacal family of products.