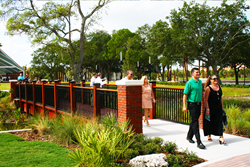 Pasco County, Florida (PRWEB) August 21, 2014
Attended by almost 700 local and Tampa Bay area business and community leaders, Pasco Economic Development Council's Annual Banquet and Industry Awards will include an awards ceremony, industry trade show and a brief report on the County's economic development process.
Founded in 1987, Pasco EDC was created to foster economic vitality and business development opportunities of Pasco County, Florida.
This year's event will take place the evening of September 2nd at the renowned Saddlebrook Resort. Registration is open until August 26, 2014.
About York Bridge Concepts™
York Bridge Concepts, Inc. (YBC) is the nation's largest on-site timber vehicular bridge builder. YBC works with industry-leading owners and developers on prestigious projects throughout the U.S. and internationally, creating more than just a solution for crossing lakes, streams, creeks, wetlands or ravines. In this competitive real estate market, developers who want to ensure that their project stands apart from the competition use York Bridges to add value and create a feeling of exclusivity, warmth, and quality for their customers. Based in Lutz, Florida, with almost 30 years of experience, YBC has become well-known for their expertise and cutting-edge innovation in timber bridge design and on-site construction.
For more information, contact YBC at (800) 226-4178 or visit ybc.com. Media representatives may register to receive more information by emailing YBC's Public Relations Director at gdreyfus(at)ybc(dot)com.