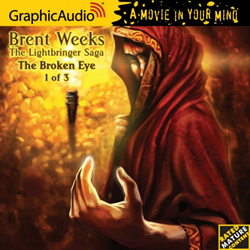 GraphicAudio brings an unparalleled passion and creativity to the staid world of audiobooks.
Bethesda, MD (PRWEB) August 26, 2014
GraphicAudio® A Movie in Your Mind® is pleased to announce the release of Lightbringer Saga 3: THE BROKEN EYE by Brent Weeks. This full-cast, dramatized version with sound effects and music highlights the best of the Fantasy Genre. GraphicAudio® is known for publishing fantasy titles such Rogue Angel Series by Alex Archer and the Demon Wars series by R.A. Salvatore.
The Lightbringer Saga began by introducing us to Gavin Guile, ruler of the Seven Satrapies, but the series now shifts its focus to his bastard son, Kip Guile. The satrapies are crumbling. Old gods are being reborn, the world's magic is running wild and Gavin has lost his abilities and his freedom.
Without the protection of his father, Kip must now face a master of shadows alone as his grandfather moves to choose a new Prism and put himself in power. Along with his allies Teia and Karris, Kip will have to use all his wits to survive a secret war between noble houses, religious factions, rebels, and an ascendant order of hidden assassins, The Broken Eye.
Brent Weeks says, "I'm thrilled to be working with GraphicAudio again to make THE BROKEN EYE come alive for an audience that might never experience my work without them -- whether long-haul truckers, the sight-impaired or just book lovers who adore GraphicAudio's music, acting, and sound effects. GraphicAudio brings an unparalleled passion and creativity to the staid world of audiobooks."
Director Rose Supan says, "It's a pleasure and a privilege to be directing Brent Week's The Lightbringer Saga.Thanks to Brent, not only is the storyline tremendous, but in addition the characters are rich, complex and textured. The actors love portraying Brent's characters, and I love directing them. Along with Sound Designer Johann Dettweiler's expertise at adapting and engineering, there's no way I could be prouder of these GraphicAudio recordings!"
GraphicAudio® continues to expand its market presence with the free GraphicAudio Access™ Mobile App which allows customers to directly download titles on their Android or iOS smartphones and tablets.
About the Author: Brent Weeks was born and raised in Montana. He started writing on bar napkins, then on lesson plans. Miraculously, someone finally paid him for it. Brent lives in Oregon with his wife, Kristi, and their daughter.
About GraphicAudio®: An imprint of The Cutting Corporation, since 2004, GraphicAudio® has published approximately 900 titles and 60 different series in their GraphicAudio® A Movie in Your Mind® audiobook entertainment format. For more visit: http://www.graphicaudio.net.