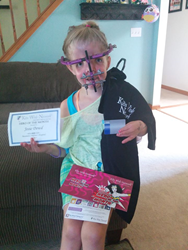 Her resilience and courage through all of [her surgeries] is remarkable.
Royal Oak, MI (PRWEB) August 21, 2014
Together with Beaumont Children's Hospital, children's charity Kids Wish Network is excited to recognize Livonia girl Josie Dowd as a July 2014 Hero of the Month. Josie was nominated for the award for her bravery and determination through her entire life of medical procedures.
Kids Wish Network's Hero of the Month program recognizes children between the ages of 3 and 18 who have faced and overcome difficult circumstances, often enduring a great deal of pain and suffering. While they may not suffer from a life-threatening illness, these Heroes have dealt with life-altering situations, demonstrating extreme bravery and courage.
Josie was born with Apert syndrome, a congenital disorder characterized by malformations of the skull, face, hands and feet. The craniofacial disorder caused the bones in her head to become fused; her fingers and toes were also fused together and she suffered from hip dysplasia.
So far, 8-year-old Josie has endured more than 14 surgeries. The little girl has had two cranial vault remodeling surgeries, one for her cleft palate, seven hand surgeries to redefine her fingers, three for her hips, and most recently, a mid-face distraction surgery. For most of her procedures, Josie usually spends about four days in the hospital each time; this most recent stay was over two weeks.
"Josie is funny, silly and loving," says Michelle Meschini, the child life specialist from Beaumont who nominated her for the award. "She had undergone several major craniofacial surgeries and her resilience and courage though all of them is remarkable. She is one determined little girl, and that determination will take her far in life."
Beaumont Children's Hospital is one of hundreds of facilities across the United States that works with Kids Wish Network to honor brave kids. Each facility is able to nominate up to five Heroes per month, and each Hero is recognized with a Kids Wish Network certificate, t-shirt, and gift card. Kids Wish Network honored over 700 Heroes nationwide in 2012/13.
Kids Wish Network is a Florida-based charitable organization dedicated to infusing hope, creating happy memories, and improving the quality of life for children having experience life-altering situations. More than just granting wishes, Kids Wish Network makes a difference through its various programs by delivering hope to kids across the United States. Come experience the Kids Wish Network difference at http://www.kidswishnetwork.org.
###