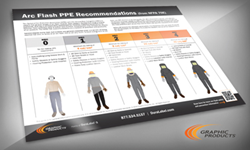 We continue to expand our arc flash safety resources because this phenomenon is so dangerous.
Portland, OR (PRWEB) August 26, 2014
A phenomenon where a flashover of electric current leaves its intended path and travels through the air from one conductor to another -- is an ongoing safety concern. Because of the violent nature of an arc flash exposure, injuries are serious – even resulting in death. It's not uncommon for an injured employee to never regain their past quality of life.
Graphic Products, solution providers for safety and visual communication, has researched, written and designed a colorful, two-sided quick reference guide to arc flash personal protective equipment (PPE). PPE is easily identified using a picture table. The guide highlights long sleeve shirts and pants, safety glasses and goggles, face shields and hoods, hearing protection, gloves, hard hats and full body suits.
The National Fire Protection Agency (NFPA) uses five Hazard/Risk Categories (HRCs) to classify five general ranges of arc flash hazards. Each category represents a range of energy exposures, and has a corresponding requirement for PPE. Because each layer of protective gear adds bulk, overprotection may decrease the range of motion for the wearer. NFPA 70E recommendations pose a balance of protection and practicality.
Four factors determine the severity of an arc flash injury:

Proximity of the worker to the hazard
Temperature
Time for the circuit to break
Strength of the current passing through the arc
Arc flash incidents involve electric shocks, fires spreading rapidly through buildings, flying objects such as molten metal and sound blasts as loud as gun shots (140 db). Blast pressures reaching 2,000 psi (pounds per square inch) strong enough to collapse lungs, and tremendous heat reaching 35,000°F at the arc, are not uncommon.
Arc flash may be caused by:
Dust
Dropping tools
Accidental touching
Condensation
Material failure
Corrosion
Faulty installation
"We continue to expand our arc flash safety resources because this phenomenon is so dangerous," said Steve Stephenson, Graphic Products.
The Graphic Products arc flash reference library includes:

A fully-illustrated best practice guide
Interactive webinar
Colorful arc flash boundary infographic
Labeling kits for workplace safety
Labeling supplies created for outdoor use
Graphic Products carries a full family of labeling systems for every application, free technical support, and a five-year warranty on labels made with premium vinyl. Satisfied customers throughout the world include P&G, Amazon.com, Georgia-Pacific, Boeing, John Deere, Conoco, Sara Lee, Toyota and General Electric. Graphic Products is The Global Leader in Workplace Labeling & Signage.