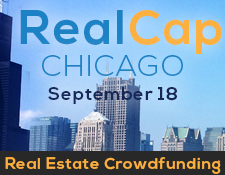 Chicago, IL (PRWEB) August 21, 2014
RealCap Chicago, a real estate crowdfunding conference produced by The Soho Loft, taking place on September 18 at One Financial Place, added two new sponsors for the event this week. Single Source Property Solutions and Accredited Investors Market will join American Homeowner Preservation ("AHP") , LDJ Capital, Times Realty News and Victoria Global as the sponsors for the event. RealCap Chicago also added several new speakers from some of the nation's leading real estate crowdfunding platforms including Ben Armstrong of GroundFloor, Allen Shayanfekr of ShareStates, Bill Marcus of Crowd Alliance and Jim Aldrich of Prop Funds LP.
RealCap Chicago will feature panels including How Does Real Estate Crowdfuning Work, Family Offices and Investors: What We Look For When Investing. And How to Get Your Project Funded Online. In addition, there are two workshops: Marketing & Publicity Strategies to Make Sure Projects Are Funded—And Fast! and How to Create Your Own Crowdfunding Platform. RealCap Chicago will be moderated by DavidDrake, founder and chairman of The Soho Loft, and AHP's founder and CEO Jorge Newbery.
Real estate crowdfunding is the future of capital has taken off since Title II of the JOBS Act opened the doors for companies advertise their investment opportunities. The transparency and convenience is helping drive the growth as a vehicle to raise capital for real estate entrepreneurs. "This rapid proliferation is due to developers' need for capital to fund real estate projects, investors' desire to generate attractive returns through investments they understand, the efficiency and convenience offered by the sites, plus a low barrier to entry for new platforms" said Newbery.
Real Capital Chicago will be held 8:00AM – 6:00PM at One Financial Place, 440 S. La Salle Place in downtown Chicago, Illinois. For further information, visit http://www.realcapchicago.com.
American Homeowner Preservation is a socially responsible investment fund manager which empowers accredited investors to purchase equity in pools of distressed mortgages and earn returns of 9-12%. For further information or inquiries please visit https://ahpinvest.com or call 800-555-1055.