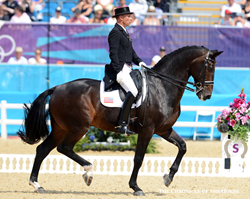 To support dressage in Central Park is very special for me as a true New Yorker.
New York, NY (PRWEB) August 21, 2014
Steffen Peters to show Olympic mount Ravel in a special command performance of one of the most celebrated dressage horses in U.S. history at the Central Park Horse Show presented by Rolex
The Central Park Horse Show, presented by Rolex and produced by The Chronicle of the Horse, is excited to announce riders for the Central Park Dressage Challenge, presented by The Axel Johnson Group. The Dressage event, held on Sept. 20th, 2014, at 6:30 p.m. at the Trump Rink in New York City's Central Park, will showcase some of the world's top horses and riders against a backdrop of skyscrapers in one of the world's most iconic venues.
The Axel Johnson Group, the presenting sponsor of the Central Park Dressage Challenge, is well-known in the dressage world through Antonia Axson Johnson, Chairman and Owner of the Axel Johnson Group, who is a long time supporter of equestrian sport.
Johnson has partnered with Tinne Vilhelmson Silfvén (a six-time Olympian, currently ranked fifth in the world) over the last 15 years, sponsoring top horses and top Swedish riders at many levels. She also sponsors show jumper Kirsten Coe of the U.S.
"This is a fantastic opportunity for dressage and is a great way to educate a broader audience on the intricacies of dressage and the communication between animal and human," Johnson expressed. "I'm thrilled to see the sport showcased in such an exciting venue."
The Axel Johnson Group is a fifth generation family business that employs more than 20,000 people around the world. Equestrian sport has been a family passion and legacy for Johnson for more than 100 years.
"My passion for dressage and my passion for the family business are two dimensions of the same legacy- concentration and focus, a long-term perspective and a touch of magic. To support dressage in Central Park is very special for me as a true New Yorker, born in the city and with Central Park as my childhood playground."
Mark Bellissimo, CEO of International Equestrian Group commented, "We are excited to partner with Antonia to elevate the sport of dressage in the U.S. and there is no greater city to do it in than New York."
Dressage riders scheduled to compete are: Isabell Werth (GER), five-time Olympic gold medalist; Hans Peter Minderhoud (NED) 2010 Alltech FEI World Equestrian Games team gold medalist; Olympian and 2014 WEG competitor Lars Petersen (DEN); American dressage Olympians Tina Konyot, Lisa Wilcox, and Jan Ebeling; Canadian Olympian Ashley Holzer; top American riders Caroline Roffman and Catherine Haddad Staller as well as top amateur PJ Rizvi; and top Canadian riders Karen Pavicic and David Marcus, members of the 2014 Canadian WEG team. The Central Park Dressage Challenge will also be the return to the show ring for American and three-time Olympian and bronze medalist Steffen Peters and his famous mount Ravel. Fans won't want to miss this amazing opportunity to see this special pair together again.
Also held during Saturday night's Central Park Dressage Challenge will be a unique demonstration from the United States Vaulting team from the World Equestrian Games, sponsored by Akiko Yamazaki.
Buy your tickets for the Central Park Horse Show by clicking this link: http://bit.ly/XuIGXh. For VIP tables, please contact Anne Caroline Valtin at vip(at)centralparkhorseshow(dot)com.
Discounted Hotel rooms are available at the JW Marriott Essex House at the following link: http://bit.ly/1nRumC6.
Information for The Central Park Horse Show can be found at http://www.centralparkhorseshow.com, "Like" the new Central Park Horse Show Facebook page (https://www.facebook.com/CPhorseshow) and follow them on Twitter at @CPHorseShow, and on Instagram at @CPHorseShow!
ABOUT ROLEX
Leading brand of the Swiss watch industry, Rolex, headquartered in Geneva, enjoys an unrivalled reputation for quality and expertise the world over. Its Oyster watches, all certified as chronometers for their precision, are symbols of excellence, performance and prestige. A pioneer in the development of the wristwatch as early as 1905, the brand is at the origin of numerous major watchmaking innovations, such as the Oyster, the first waterproof wristwatch, launched in 1926, and the Perpetual rotor self-winding mechanism introduced in 1931. Rolex has registered over 400 patents in the course of its history. A truly integrated and independent manufacturing company, Rolex designs, develops and produces in-house all the essential components of its watches, from the casting of the gold alloys to the machining, crafting, assembly and finishing of the movement, case, dial and bracelet. Rolex is also actively involved in supporting the arts, sports, exploration, the spirit of enterprise, and the environment through a broad palette of sponsoring activities as well as philanthropic programmes.
ABOUT THE AXEL JOHNSON GROUP
The Axel Johnson Group is a fourth and fifth generation family business, employing more than 20.000 people around the world and with a turnover of close to 20 billion USD. Our businesses are mainly in the Nordic countries and in the United States. Equestrian sports have been been a family passion for more than 100 years. Business and horses are part of the same family legacy. Learn more at http://www.axeljohnson.com.
ABOUT THE CHRONICLE OF THE HORSE
For 76 years, The Chronicle of the Horse has been the industry leader in providing news coverage of national and international sport horse competitions. Through our award-winning weekly magazine and web coverage we offer everything from competition results to compelling features and thought-provoking commentary. The Chronicle Untacked quarterly lifestyle publication launched in 2013 to rave review. Read more at http://www.chronofhorse.com.
Media Contact:
Shin-Jung Hong, Nicholas & Lence Communications
ShinJung(at)nicholaslence(dot)com / Tel: 212.938.0005