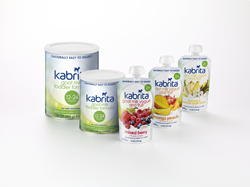 'We're so excited to present our gentle, non-GMO goat milk foods to health-conscious celebs and their little ones,' says Kabrita co-founder Carolyn Ansley. 'And we're just as excited about the chance to drive donations to L.A. families in need.'
Beverly Hills, CA (PRWEB) August 22, 2014
Goats are taking over Beverly Hills as Kabrita, The Gentle Goat Milk Foods, attends the 10th annual Pre-Emmy Awards Boom Boom Room. Celebrities and their little ones will have a chance to try the best new products for kids on August 23 at the Beverly Hills Hilton from 11 a.m. to 4 p.m., and we'll be encouraging them to #GoGoat for L.A. families in need along the way!
"We're so excited to present our gentle, non-GMO goat milk foods to health-conscious celebs and their little ones," says Kabrita co-founder Carolyn Ansley. "And we're just as excited about the chance to drive donations to L.A. families in need." For every Boom Boom Room celeb who tweets #GoGoat until midnight on the day of the event, Kabrita will donate a can of formula to Baby Buggy, a nonprofit organization founded by Jessica Seinfeld in 2001 to provide families in need with essential gear, clothing, products and services for children 0 to 14.
Celebrity Moms (and moms to be!) at this year's event will include Game of Throne's Nathalie Emmanuel, How I Met Your Mother's Ashley Williams and singer Lisa Loeb. Past attendees include former 90120 star and goat-enthusiast, Tori Spelling. "We loved the Boom Boom Room," says Spelling. Fun fact: Spelling has her own pet goat named Totes McGoat and regularly walks it around L.A. (we'll be on the look-out!).
About Kabrita North America
Kabrita North America is a partnership between business executive Carolyn Ansley and Dr. Kate Morrison, N.D., (co-founders and moms) and Hyproca Nutrition, a Dutch company with over 70 years of infant nutrition expertise. We're here to create delicious, naturally easy to digest goat milk foods for all children, while empowering parents with education, support and products that help them to make informed nutrition choices for their individual child confidently, intuitively, and with joy.