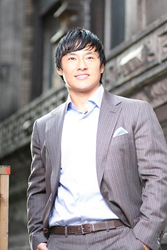 Garvey Schubert Barer is a great fit for me. The firm and I share the same traits and values - an entrepreneurial spirit, diligent and creative advocacy for clients, and attentive and responsive service.
New York, NY (PRWEB) August 21, 2014
Garvey Schubert Barer has announced the addition of attorney and NFL sports agent, Eugene T. Lee, to its New York office, where he has been named Of Counsel. Mr. Lee will join the firm's Chambers-recognized Sports & Entertainment Group. His practice will focus on all aspects of sports law.
Mr. Lee is currently the principal of New York-based sports agency, ETL Associates, Inc., which has been described as an up-and-coming agency in the NFL player representation industry. He has been an attorney since 1998 and an agent since 2002. ETL Associates represents active and retired NFL players, coaches and broadcasters and has developed relationships with production companies, networks, actors, directors, talent agencies and others in the entertainment industry as well.
Mr. Lee is an NFL Players' Association certified players' agent, and ETL Associates has represented over 35 players on active NFL rosters in negotiating their player contracts and sponsorships, including beverage deals with brands such as Gatorade and Pepsi, and footwear and apparel deals with brands such as Reebok and Nike. The agency's current roster includes Brian Witherspoon, Cornerback, New York Giants (retired); Jeremiah Warren, Offensive Line, Cleveland Browns; Johnny Adams, Cornerback, Indianapolis Colts; Jonathan Stewart, Free Agent (Dallas Cowboys).
Eugene Lee is a frequent guest on television programs and news networks, including Fox Business, CNN, Bloomberg and CNBC, where he regularly appears as an industry expert on NFL player contracts, salary caps, the collective bargaining agreement and athlete branding. Mr. Lee and ETL Associates were also prominently featured in the ESPN documentary "The Dotted Line," directed by Academy Award nominee Morgan Spurlock. Mr. Lee is a frequent speaker and lecturer on matters of sports law and sports agency.
Regarding his new association with Garvey Schubert Barer, Eugene Lee stated, "Garvey Schubert Barer is a great fit for me. The firm and I share the same traits and values – an entrepreneurial spirit, diligent and creative advocacy for clients, and attentive and responsive service. That's what ultimately sets us apart from other attorneys and firms in the sports and entertainment industry. Garvey Schubert Barer works collaboratively with a client and the rest of the client's professional team toward building the athlete's or talent's brand and protecting it."
Prior to establishing ETL Associates, Mr. Lee worked as an associate with the technology and intellectual property firms of Brown Raysman and Fish & Neave. Mr. Lee received both his law degree and his B.B.A. degree in accountancy summa cum laude from Notre Dame. Mr. Lee's agency, ETL Associates is the sports marketing agency of record for the Maxwell Football Club, an organization formed in 1935 to promote safety in the sport. Maxwell issues several respected awards each year to high school, college and professional football players.
About Garvey Schubert Barer
As one of the top full-service law firms serving sports, arts and entertainment clients in the United States, Garvey Schubert Barer is known for helping its clients leverage their talent and assets to create wealth and to grow their brands globally. Garvey Schubert Barer clients are involved in virtually every aspect of sports, arts and entertainment, including film, television, music, radio, theater, dance, art, literary works and photography. The firm represents a large, diverse array of clients, regionally, nationally and internationally, including new and established athletes, entertainers and businesses in all phases of business, from day-to-day matters to sophisticated transactions or litigation. Based on its experience in many practice areas, the firm provides its diverse array of clients with responsive, value-added, full-service representation. The firm's lawyers have extensive experience in business transactions and litigation as well as in other legal areas such as securities, tax, immigration, and labor and employment. Offices are located in New York, Washington, D.C., Seattle, Portland, Anchorage, and Beijing. For more information, please see http://www.gsblaw.com or follow us on Twitter @gsblaw.
-30-