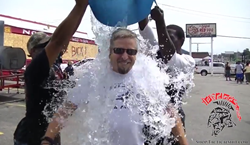 You could sense the calm in the atmosphere. It changed from previous days, I hope the peace continues. -TJ Kirgin, President & CEO
St. Charles, MO (PRWEB) August 30, 2014
As tensions in Ferguson, MO continue to proceed, TJ Kirgin President and CEO of Tactical Shit accepts the popular ALS Ice Bucket Challenge in an unexpected way. Kirgin thought it would be a great idea to do the challenge in the heart of Ferguson's "Hot Zone". The video can be viewed here.
Kirgin and his team at Tactical Shit have been covering the events in Ferguson closely since the protests began Sunday, August 10, 2014, and have made several trips to the "Hot Zone" to report about the current situation. The latest report can be viewed here. To help contribute to a change in race relations, TJ reached out to Red's BBQ, a local Ferguson restaurant that had been looted by rioters, to ask permission to perform his Ice Bucket Challenge there. The owner of Red's was happy to host the challenge and lent some of his employees to join in the fun.
The light hearted Ice Bucket Challenge came at a time when emotions were still high from the Michael Brown shooting and Kirgin says of the event, "You could sense the calm in the atmosphere. It changed from previous days, I hope the peace continues."
Kirgin accepted the ALS Association's Ice Bucket Challenge after being nominated by fellow Tactical Shit team member Chris Bilodeau. The challenge raises awareness for ALS, also referred to as Lou Gehrig's Disease, and has helped raise millions for ALS research.
Tactical Shit is a website tailored to military personal, law enforcement, avid shooters, professional operators, and second amendment advocates. Their Facebook fan page has almost 200,000 fans from all over the world.