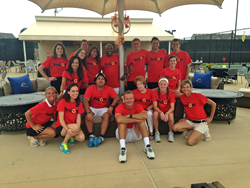 Our fundraiser for Truman Medical Center was a great event for a great cause. Adults and our sponsors played an important part but I'm most proud of the kids at Elite Squad Tennis Club, who came up with the idea and drove the campaign forward.
Overland Park, KS (PRWEB) August 22, 2014
Nine year old Emma Razi and her eight year old sister Elle were inspired when a friend raised money for underprivileged kids to play softball in inner Kansas City. After the Razis, who live in Johnson County, Kan., toured the neonatal intensive care unit (NICU) at Truman Medical Center, the girls knew they had found a worthy cause. The Razis took their idea to the owners of Elite Squad Tennis Club (ESTC), home of the premier tennis facility in the Midwest, and the TruLove fundraiser was born.
"When Emma and Elle saw the babies at TMC's NICU and heard doctors talking about the equipment that was needed, they were moved to help," said Emma and Elle's father, Hossein Razi. "They've been going to Elite Squad Tennis Club for four years and we knew that the staff would do a wonderful job organizing the event."
As a prequel to the actual TruLove event, 56 members of ESTC's prestigious youth academy tennis program formed four- and five-person teams, with the goal of raising $50 per person. Within just a few weeks, the participants of the 'TruGratitude Challenge' had raised more than $4,700 to benefit sick infants at Truman Medical Center's NICU.
ESTC hosted the two-day TruLove benefit on Friday, August 15, and Saturday, August 16. On Friday, members attended a kick off barbecue and "TruLove Recycles" tennis clothing resale event, which featured an exhibition match featuring two of Kansas City's top coaches. The headliner on Saturday was an adults tennis tournament on 36' courts using vintage wooden rackets and compression balls, and kids' tennis activities ran throughout the day. Sponsors included Mr. Tires, Smokehouse and Midwest Healthcare Services, who each contributed $500. The event brought in almost $8,000 in additional funds to help pay for two new infant resuscitation systems in Truman Medical Center's NICU.
"Our fundraiser for Truman Medical Center was a great event for a great cause," said Mike Wolf, Director of High Performance at ESTC. "Adults and our sponsors played an important part but I'm most proud of the kids at Elite Squad Tennis Club, who came up with the idea and drove the campaign forward."
About Elite Squad Tennis Club
In 2010, Elite Squad Tennis Club (ESTC) opened a totally new state-of-the-art tennis complex in South Johnson County. The 100,000 sq. ft., indoor/outdoor facility is the first dedicated tennis complex built in the Kansas City area within the last 20 years. Learn more at http://www.elitesquadtennis.com