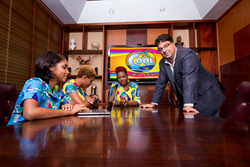 Despite being in the petroleum business I believe that oil will remain too expensive for Jamaica's relatively low export earning to afford
(PRWEB) August 26, 2014
Founder and Executive Chairman of Cool Corporation, Joseph John Issa, the largest indigenous distributor of petroleum products in Jamaica today, says in an interview that with so many rural Jamaicans still without proper means for lighting and cooking, the authorities should encourage strategic investments in technological research to develop small devices that make it easier, cheaper and more convenient to harness clean energy for use by rural communities which otherwise will forever remain in the dark.
Issa's call was prompted by the latest 2011 census data which show that many Jamaican households are still without proper means for lighting and cooking, and Google's $1-million prize "to develop a much smaller inverter, the essential box which takes direct current from devises like solar panels and batteries and turn it into alternating current for use in businesses, cars and homes," says Google's Little Box Challenge at https://www.littleboxchallenge.com/...
"Despite being in the petroleum business I believe that oil will remain too expensive for Jamaica's relatively low export earning to afford; its detrimental impact on the environment is unsustainable; and one day deposits will run out, but long before this happens, Jamaica needs to embrace clean energy as the inevitable saviour from environmental degradation.
"So I think we need to see Google's gesture as a wake-up call for us to start investing in research and development of gargets that will make it easier, cheaper and more convenient to harness energy from the largest source available to us – solar, and while businesses and cars will benefit from the Google invention, my own relief is the potential it offers in bringing power to a large number of rural Jamaicans who are without proper means of lighting and cooking," says Executive Chairman of Cool Corporation, Joe Issa.
Data extrapolated from the 2011 latest Census of Population and Housing accessed at http://jamaica-gleaner.com/pages/population-and-housing-census-2011/files/assets/basic-html/page36.html show that 71,343 households or over eight per cent use kerosene and other means for lighting, while an even larger number, 156,489 or about 18 per cent use the same means for cooking. But Issa believes that while Google's Little Box Challenge may revolutionise the way we harness clean energy sources, it is our investment in technology in schools, colleges and universities that will ensure a bright and clean future for generations of Jamaicans.
Clean energy refers to energy produced from renewable sources like the sun (solar), wind and water and does not have a detrimental impact on the environment. Also, energy processes that pollute less and use resources that can be easily renewed may be referred to as clean energy.
"Despite its problems, clean energy has the potential to heal the planet of global warming and greenhouse gases, and the best thing yet is that unlike oil, its sources are not owned by a few countries mainly from the Middle East; they are owned by no one in particular and so all of us have a right to them; and they will not run out," Issa argues.
In building his case for clean energy as the saviour of planet earth, Issa contends further, that whereas wars have been fought over the precious oil commodity and it is likely that this will continue to be so, this will not be the case for clean energy, which will bring peace to the world as the sources are abundantly available to all countries around the world.
Ever since solar power technology became popular as a potential source of energy, many tools and gadgets have been developed to harness it from the sun, a source that is growing in popularity as more people turn to renewable energy sources.
In Jamaica, the authorities have done several things to encourage private sector investment in renewable energy, including removing all taxes on solar systems, establishing a low interest loan facility at the Development Bank of Jamaica (DBJ) and allowing alternative energy producers to sell any excess to the national grid, with 170 licenses already issued for that purpose.
The latest major investment in renewable energy in Jamaica is a new $388 million (US$3.5 million) 1600 kilowatt solar energy system at the Grand Palladium Hotel in Hanover. The project, which was launched in may 2014 will power 20 of the hotel's villas for more than 16 hours a day and save 200 megawatts in annual energy consumption.
Moreover, due to the short payback period of just three years, some 22 additional hotels are lining up to install similar solar energy systems, Minister of Science, Technology, Energy and Mining, Hon. Phillip Paulwell, revealed at the launch, which was reported in the article: Jamaica Looks to Make Hotels Greener (Caribbean Journal Staff, 2014) accessed at http://www.caribjournal.com/2014/06/02/jamaica-looks-to-make-hotels-greener/.
But Issa believes more should be done to specifically target schools, colleges and universities in a strategic move to encourage research and development in renewable energy to benefit not only businesses, but also to improve life in rural communities which still live in the 'old days' of environmentally unfriendly kerosene lamps and inefficient cook stoves using wood and charcoal.