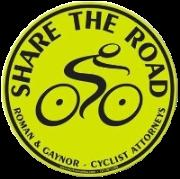 Clearwater, FL (PRWEB) August 21, 2014
For the second year in a row, Roman & Gaynor is sponsoring the Edinburgh Cyclocross Challenge. This year's cyclocross event will take place on September 27-28 at Highlander Park in Dunedin, Florida.
Cyclocross brings a real world approach to cycling and the possible terrain variations that people may experience while riding their bike. In this form of cycling, cyclists learn how to handle their bike on many types of terrain, including dirt, gravel, road, sand, and in situations that may arise that are out of a cyclists control.
"Learning how to handle your bike in these different situations will help you continue a fun and safe atmosphere," explains Tampa Bay Cyclocross promoter Zach Fout. "Riding a bike is a fun and fulfilling experience, but it's easy to forget about some of the dangers that are involved with cycling."
Roman & Gaynor attorneys Mark Roman and Morgan Gaynor are both avid cyclists who understand the dangers cyclists face every time they hit the road. As cyclists themselves, they are committed to doing their part to increase awareness about sharing the road with bicyclists.
"We are honored to support the cycling community by sponsoring local and state cycling events because these events are a great platform to spread the word that you must focus on the road in front of you while driving," said Mr. Roman.
This year's cyclocross event will kick off with a twilight ride on Saturday and continue with more waves on Sunday morning. Men, women, and children of all ages can participate in this event.
"With the continued support of Roman & Gaynor Law Firm, I am fortunate enough to bring the Edinburgh Cyclocross Challenge in Dunedin back for the 2nd year in a row," said Fout. "It's nice to know that if an unfortunate situation does arise, [Mark and Morgan] understand your situation and have years of experience handling cycling accidents."
To learn more about the firm sponsoring the 2014 Edinburgh Cyclocross Challenge, visit http://www.romangaynor.com/.