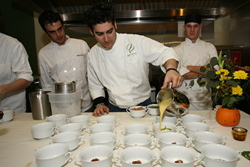 This is the best tasting menu in the Chicago area. Next year I'm bringing all my friends.
Evanston, Il (PRWEB) August 24, 2014
If you support "eating local" and want to ensure the continued success of Evanston's markets, the Harvest Dinner is the event for you. Mirroring the excitement of the burgeoning restaurant scene in Evanston, a great group of talented local chefs will pair up with dedicated farmers from the main Evanston Farmers' Market to present dishes spotlighting local fall produce. As participants in prior years' events have commented, the fabulous food combined with the warm community atmosphere makes this one of the premier events on the North Shore.
Chefs participating this year include:

Bistro Bordeaux - Chef Aaron Brockwell
Boltwood - Chef Brian Huston
Chef's Station – Chef Jose Romero
Farmhouse – Chef Eric Mansavage
Feast & Imbibe - Chef D'Andre Carter
Found - Chef Nicole Pederson
Hewn – Chef Ellen King
Hummingbird/Campagnola/Union - Chef Vince DiBattista
Hoosier Mama Pie Company – Chef Paula Haney
Quince - Chef Andy Motto
The Stained Glass – Chef Victor Hernandez
Tomate Fresh Kitchen – Chef Tania Merlos-Ruiz
Tickets are $70 until Sept 1st; $80 thereafter. (Each purchase includes one drink ticket). Space is limited, so order early.
About Friends of Evanston Farmers Markets: The Friends is a 501C3 non-profit, educating the public on the benefits of eating fresh, locally grown foods, and advocating greater access to healthy food for all community members, regardless of means. For more information, go to the Friends web site.
About Now We're Cookin': Now We're Cookin' is an innovative center promoting culinary education and food entrepreneurship. Through its unique Food Business Incubator program they provide rental production space, training, mentoring, resources and networking opportunities for new food entrepreneurs. In its demonstration kitchen, talented chefs conduct a wide range of cooking classes and host private parties and events, as well as corporate meetings and filming. http://www.nwcookin.com