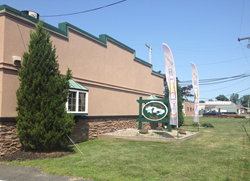 Long Branch, NJ (PRWEB) August 25, 2014
The Jersey Shore offers more than just fresh seafood and boardwalk snacks. For 20 years, guests have flocked to the the Sitting Duck, for their delicious menu, which of course includes duck! Located in Long Branch, New Jersey, loyal customers make weekly visits to the restaurant along with sister restaurant, The Pour House in Tinton Falls, New Jersey.
After purchasing the Sitting Duck in 1994, owner Gary Schoelkopf and his partner and brother Michael Schoelkopf have made it their mission to make the restaurant a success. Using experience they gained helping their parents who owned a restaurant when the Schoelkopf boys were growing up, they have received a lot of positive feedback from restaurant-goers. "The Sitting Duck is like the Cheers of Long Branch," said Gary Schoelkopf. "Ninety-eight percent of our business is recurring customers. We are not located on a main road so if you are coming here, you are coming here to eat."
Both establishments serve the same food but to a very different crowd. the Sitting Duck generally welcomes families and middle aged guests, while the Pour House draws a younger crowd. "Items don't sell the same. The age group and socioeconomic status is different," said Schoelkopf. "Family dining is what we promote. Mom and Dad with two kids, that's our customer at The Sitting Duck." Although entertainment is not offered, guests can enjoy the open kitchen setup at The Sitting Duck where they can watch their food being made. "Parents like our open kitchen because their kids can watch the cooking going on and they aren't on their phones the whole time."
With dozens of compliments on their good food and friendly service on social media, Schoelkopf stresses that the most important thing is the price. "People don't come here to dine, they come here to eat," said Schoelkopf. "Someone with a wife and kids doesn't want to spend a ton of money someplace else, so we keep our prices fairly reasonable." Interacting with the customers is also important to keep guests happy. "At a chain restaurant there is no one to reach out and touch," said Schoelkopf. "People like seeing the owner and familiar faces."
The Sitting Duck also hosts car shows every Tuesday night where participants showcase their cars to receive a $10 restaurant gift card. From September 15th through the month of October, guests can choose from an array of German food to celebrate Octoberfest. Guests can also indulge in their daily super specials.
The Sitting Duck is open Sunday and Monday from 11:00 am to 11:00 pm and Tuesday through Saturday from 11:00 am to 12:00 pm. Hours at The Pour House are Monday through Saturday 11:30 am to 2:00 am; close at 12:00 am on Sundays. The restaurant is closed for all major holidays. Private party space is available. Visit their websites to sign up for their birthday club and to receive a complimentary gift card at http://www.sittingduckrestaurant.com/ and http://www.pourhouserestaurant.com/.
About Bielat Santore & Company
Bielat Santore & Company is an established commercial real estate firm. The company's expertise lies chiefly within the restaurant and hospitality industry, specializing in the sale of restaurants and other food and beverage real estate businesses. Since 1978, the principals of Bielat Santore & Company, Barry Bielat and Richard Santore, have sold more restaurants and similar type properties in New Jersey than any other real estate company. Furthermore, the firm has secured in excess of $500,000,000 in financing to facilitate these transactions. Visit the company's website, http://www.123bsc.com for the latest in new listings, property searches, available land, market data, financing trends, RSS feeds, press releases and more.