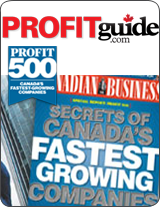 Brampton, ON (PRWEB) August 26, 2014
Locally owned NRI Industrial Sales Inc. has made it on the Prestigious Profit Guide's 26th annual exclusive ranking of Canada's Fastest Growing Companies. Number 147th on the list is nothing to sneeze at and the company will only keep growing. What makes a company belong to the Profit 500? Well, according to ProfitGuide.com, a combination of smarts, innovation and good old-fashioned tenacity.
NRI Industrial Sales Inc. has all the above mentioned qualities and more. A burgeoning leader in the Surplus Industrial Good Sector with a strong proclivity for environmental concerns are two of the many impressive traits the company possesses. The company is in a unique position to become a true 21st century global powerhouse refurbishing and selling used industrial equipment.
The numbers for 2013 are no less impressive. 398% compounded annual growth between 2008-13, 40% of sales are export driven and in a sector expected to explode in the coming years.
More information on this great company can be found on the company website NRI Parts.
About NRI Industrial Sales Inc.
NRI Industrial Sales specializes in the marketing and sales of new and used industrial equipment from Pulp and Paper, Oil and Petro-Chemical, Energy, Food Processing, and Mining industries.
NRI Industrial Sales pride themselves on keeping hundreds of tons of obsolete parts and equipment out of landfills and scrap piles, while providing the industry with an economical source to industrial equipment.
About NRIParts.com
The ultimate online source for the best value on quality industrial equipment. NRIParts.com is the direct source for industrial equipment, so the customer is getting supplier direct pricing. If anyone finds a better price elsewhere, NRIParts.com will beat that price. Guaranteed.
Contact
To learn more about this press release, please contact
Aaron Lee, Marketing Manager
5 Copper Road
Brampton, ON L6T 4W5
Office: (905) 790-2828 Ext 249
aaron(at)nri-isd(dot)com