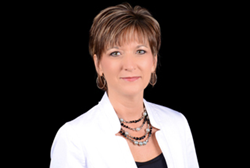 Dallas, TX (PRWEB) August 22, 2014
Gables Residential, a leader in the management and development of multifamily apartment communities, promotes Donna Summers to National Vice President of Operations for the organization. Donna returned to Gables Residential 9 years ago to join the operations team.
Donna is responsible for overseeing the operations of Gables REIT and JV owned assets. In addition, she has been actively involved in managing Gables' interfaces and initiatives with groups such as AUM, Rainmaker, Credit Retriever, Kingsley Associates and the revenue management consultants that Gables utilizes. "Her strong leadership skills, keen knowledge of the business of property management and her passion for excellence are what make Donna such an integral part of Gables' success," stated Cris Sullivan, Executive Vice President for Gables Residential.
With over 30 years of experience in property management, Donna began her career with Trammell Crow and Gables Residential, where she spent 11 years in a variety of operational roles. Upon leaving Gables she worked for companies such as Archstone and Greystar in various positions operating A to C product for both owned and third party clients. Before returning to Gables Residential in 2005, Donna worked for First Worthing where she was Director of Operations and Asset Management. While at First Worthing, Donna worked with both conventional housing and student housing projects.
Donna holds her CPM designation, is a member of the Dallas IREM chapter and has served on the Board of Directors for the Apartment Association of Greater Dallas.
# # #
About Gables Residential
Gables Residential is an award winning, vertically integrated real estate company and privately held REIT specializing in the development, construction, ownership, acquisition, financing and management of multifamily and mixed-use communities. Gables Residential owns, develops and manages communities in high growth markets throughout the United States including Atlanta, Austin, Boston, Dallas, Denver, Houston, South Florida, Southern California and metropolitan Washington, D.C. Additionally, we have third party management operations in the New York, Virginia Beach, Phoenix, Seattle, San Antonio, Charlotte, Central and North Florida markets.
Gables manages approximately 35,000 apartment homes and 400,000 square feet of retail space and has received national recognition for excellence in development, management, sales, marketing, training, benefits and corporate accommodations. These achievements reflect the impact of our experienced and dedicated team members, our superior knowledge of the markets served, and expertise in development and management.