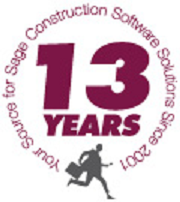 "CFO in the go gives us peace of mind, when it comes to managing our company"GC in CA
Temecula, CA –
August 22, 2014 (PRWEB) August 25, 2014 -- CFO on the go, a Sage North America business partner specializing in the sales, installation, and support of Sage 100 Contractor and Sage 300 Construction and Real Estate, has been named to the Sage America President's Circle for the 2013-2014 business year. President's Circle award winners are the top-performing business partners for Sage products. Sage recognizes CFO on the go and all Presidents' Circle winners for their outstanding contributions in 2013-2014.
The Sage North America President's Circle is awarded to the leading performers among Sage business partners representing a host of segment-leading brands, including Sage 100 ERP, Sage 300 ERP, Sage ERP X3, Sage construction and real estate products, Sage CRM, Sage HRMS (human resource management system), Sage Fixed Assets and others.
"We honor CFO on the go for their diligence and focus on our mutual customers, which has deservedly earned them the Sage North America President's Circle Award," said Donald Deshaies, VP of Channel Strategy and Management for Sage. "Congratulations to the entire team at CFO on the go for this feat!"
These honors were presented at the Sage Summit 2014 conference, July 28, 2014, at the Mandalay Bay in Las Vegas, NV. Sage Summit is the ideal venue for partners to refresh their skills and engage in meaningful conversations around burning topics for SMBs to help better serve their customers. The conference brings together partners, customers and prospects for an immersive education experience designed to provide the specific knowledge needed to better manage their business and achieve success.
Dennis E. Feidner founder of CFO on the go in 2001 "wants to thank his team for helping us win this award; without the help of the twenty-plus certified consultants and our responsive office support staff, we would not have won this award. It is with their help that we find new ways to get companies using the software quickly with a lower cost of implementation which has really improve our customer's experience."
About CFO on the go, co
CFO on the go provides leading-edge business solutions to construction, service & real estate business. CFO on the go specializes in the implementation, consulting, and training of Sage Construction solutions including Sage 300 Construction and Real Estate (formerly Sage Timberline Office), Sage Estimating (formerly Sage Timberline Estimating) and Sage 100 Contractor (formerly Sage Master Builder). From strategic planning through implementation and deployment, we apply real-world experience, best practices and a client-centric focus to deliver technologically advanced software solutions that dramatically improve business performance. With over 1,600 clients CFO on the go is uniquely qualified to provide your company software and services in the areas of Accounting, Document Management, Estimating, Project Management, Property Management, and Service Management. CFO on the go will help you maximize efficiency within your company and make it easier for you to do business with your customers, vendors, employees and partners.
We are a leading Sage Authorized Partner with a successful track record of serving this industry since 2001. Our staff of over 20 consultants provides superior implementation and training services. We also offer a number of add-on software applications that integrate directly with Sage 300 Construction and Real Estate.