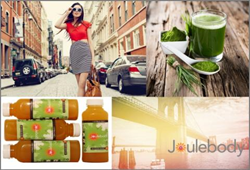 New York, NY (PRWEB) August 26, 2014
The Fashionista Cleanse delivers the feeling of total transformation without the deprivation. The difference is cleansing with food. Most all-liquid cleanses work by depriving the body of food, but biology and history shows starvation only puts the body into a state of emergency. This causes the body to store fat it thinks it may need to survive.
The Fashionista Cleanse is based on the idea of healthy eating for healthy detox, a concept that's much kinder to the body than starving it into submission. This approach relies on solid foods with fresh, vegan, gluten and dairy free ingredients. These food are proven to ignite the body's natural ability to cleanse and regenerate itself through the liver and kidneys. Many cleansers say "doing an all liquid cleanse is very hard to finish". The Fashionista cleanse diet is a combination of real foods and cleanse drinks designed to rid the body system of toxins.
The body is a temple, think of a detox program as the perfect way to clean house. Larissa Thompson, Fashion Marketing Director who has worked at Conde Naste top fashion magazines says, "During fashion week I run around a lot. Joulebody makes it easy for me to stay healthy and energetic."
The Benefits
Eating a plant based diet can help the body rid itself of free radicals, which are toxins brought in by pollutants and bad foods. It can also help the body achieve healthier digestion, clearer skin, more energy and even aid in weight loss. Best of all, it's light, delicious, easy to carry around, & it's easy to follow - all instructions are on the packaging.
ABOUT JOULEBODY
After years of study, training and research, in 2007, founder Yvette Rose opened Joulebody to help the super busy and over-stressed people of downtown Manhattan live healthier and happier. Yvette is devoted to her clients and the promise of providing the ultimate in fitness training, nutritional guidance and spiritual encouragement.
As a wife, mother of two and business woman, she understands the challenges of taking time out to nurture the body and founded Joulebody to make it easier for people to achieve a greater level of well-being.
ABOUT THE FASHIONSTA CLEANSE
The Fashionista Cleanse is 3 or 5 days, simple, easy to follow, delicious and designed to leave the body feeling full—not famished. Our 'Gluten-free, Vegan Meals' provide a holistic approach to nutrition and enough protein and electrolytes to help the body get through the entire day. Enjoy entrees, juices, and meal replacement bars that taste like a dessert!
Here's what's included in the cleanse diet:
Daily Meal Plan Includes:
(1) Acai Berry Smoothie 16oz
(1) Beet Orange Juice 16oz
(1) Greens+Grapes Juice 16oz
(1) Citrus Mint Juice 16oz
(1) Joulebody Detox Bar
(1) Vegan | gluten-free | nut-free MEAL
COST: $175.00
Some facts about health awareness and the fashion industry
1. The fashion world is starting to make changes Michael Kors no longer allows models under 16 years of age
2. Anna Wintour headed a conference entitled "Health Matters: Weight and Wellness In The World Of Fashion," which addressed the prevalence of eating disorders in the fashion industry.
3. Vogue does a "Shape" editorial every few months featuring "woman aged and body sized models"
4. 75% women end up with an eating disordering sometime in their life -- The survey was sponsored by SELF Magazine in partnership with the University of North Carolina at Chapel Hill