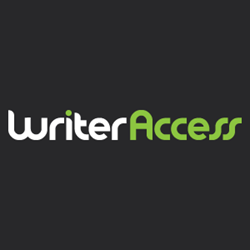 Many thanks to our team, customers, writers and fans that moved WriterAccess in the right direction...
Boston, MA (PRWEB) August 27, 2014
Last week WriterAccess was named number 3,112 on the 2014 Inc. 5000 List, an exclusive ranking of the nation's fastest-growing companies in the US. "Many thanks to our team, customers, writers and fans that moved WriterAccess in the right direction over the last three years—upward!" notes Byron White, founder and CEO of WriterAccess.
WriterAccess makes it easy for customers to find professional writers that create relevant blog posts, website content, white papers, email copy, and more to customers' specifications. All the writers are screened, tested, proven professionals, and algorithmically scored based on customer reviews. With content marketing now 33% of the marketing spend for most companies according to the Content Marketing Institute, companies need writers who can fulfill their content marketing needs, spice up sleepy websites, craft creative communications, and provide SEO copy that drives traffic, sales and revenue.
The 2014 Inc. 5000, unveiled online at Inc.com and with the top 500 companies featured in the September issue of Inc. (available on newsstands August 20 to November 30), is the most competitive crop in the list's history. The average company on the list achieved a mind-boggling three-year growth of 516%. The Inc. 5000's aggregate revenue is $211 billion, generating 505,000 jobs over the past three years. Complete results of the Inc. 5000, including company profiles and an interactive database that can be sorted by industry, region, and other criteria, can be found at http://www.inc.com/inc5000.
Rather than basking in the glory, WriterAccess released a video and PowerPoint presentation called 12 Strategies to Grow Organically and Make the Inc. 500 List. "Our recipe for success includes two parts trust, three secret ingredients and a splash of surprise," notes Byron White. "Content marketing and customer service played a big role in our growth, and we're happy to share our secrets for success hoping it might help other companies grow."
WriterAccess is an online marketplace connecting customers directly with expert freelance writers. The award-winning platform connects 10,000+ customers with 10,000+ writers that create relevant articles, blog posts, copy, eBooks, white papers and more. Visit WriterAccess or call 617-227-8800 for further information.